How The F1 2013 Grid Is Shaping Up
After confirmation that Lewis Hamilton will be driving for Mercedes next season, here's how the twenty-four pieces of the 2013 jigsaw are falling into place...
By Pete Gill. Last Updated: 31/10/12 10:10am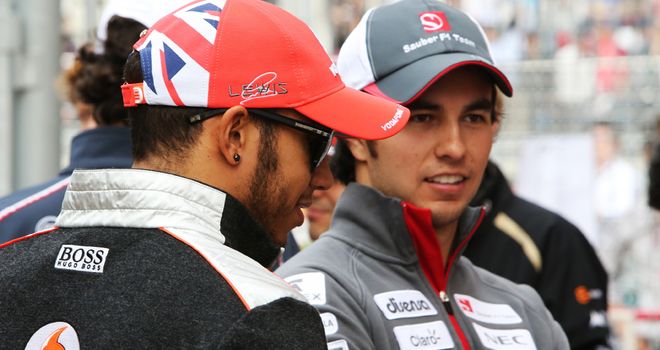 Lewis and Sergio will be wearing new uniforms in 2013...
Formula 1 Betting

Formula 1 Betting

Bet with Sky Bet
After the confirmation that Lewis Hamilton will be driving for Mercedes next season, here's how the twenty-four pieces of the 2013 jigsaw are falling into place...
Red Bull
Confirmed: Sebastian Vettel and Mark Webber.
With Ferrari's flirty pursuit of Webber decisively rebuffed, Red Bull will start the 2013 campaign with their line-up unchanged for a fifth consecutive season. If they make it to six, Webber and Vettel will be as synonymous with Red Bull as wings and vodka.
Ferrari
Confirmed: Fernando Alonso and Felipe Massa.
Done and dusted. Alonso is under lock and key until 2016, while Massa has signed a one-year contract extension in the wake of a dramatic upsurge in form. His compliance at Korea, when he shadowed his title-aspiring team-mate to the line, probably sealed the deal. However, the salient detail in Tuesday's recently-expected announcement is that Felipe's reward has been limited to a single-year extension. The door is thus still open for Sebastian Vettel in 2014.
McLaren
Confirmed: Jenson Button and Sergio Perez.
After three years of the all-British line-up of Hamilton and Button, McLaren have opened up doors to new and potentially lucrative overseas markets with the acquisition of Perez. Whether the young Mexican can adequately compensate for Hamilton's departure on the track remains to be seen, however.
LotusConfirmed: N/A
With team boss Eric Boullier predicting that Lotus' line-up will be "pretty much the same" in 2013, there's a strong expectation that both Romain Grosjean and Kimi Raikkonen will be retained. A degree of doubt has been placed around the Frenchman's future following Boullier's refusal to confirm Grosjean for next year in the wake of his spate of first-lap crashes, but so long as he stays out of trouble he'll surely be staying on. The only other unresolved matter is the identity of the team's third driver following Jerome D'Ambrosio's rather modest weekend at Monza when deputising for the suspended Grosjean.
Mercedes
Confirmed: Lewis Hamilton and Nico Rosberg.
Will the team currently entrenched in fifth place in the Constructors' Championship start next season with the strongest driver line-up on the grid? It's certainly arguable. In the meantime, the wait is already on to learn whether the retired Schumacher will accept a management role with the team or move on to fresh pastures.
Williams
Confirmed: N/A
Such has been the youngster's speed in his Friday Practice appearances this season that it is more likely than not that Williams will promote Valtteri Bottas to one of their two race seats for next season. Pastor Maldonado may not have covered himself in glory since his victory in Spain but a win is a win and Bottas' promotion would almost certainly be at the expense of Bruno Senna.
Force India
Confirmed: N/A
The team had made no secret of their wish to retain their current line-up, but that now won't happen after Hulkenberg's move to Sauber was confirmed. Paul di Resta will surely remain, but alongside whom? Former driver Adrian Sutil is back in the frame, along with Jaime Alguersuari, but the smart money is on Jules Bianchi being promoted from the rank of third driver.
Sauber
Confirmed: Nico Hulkenberg
With Sergio Perez on his way to McLaren and as it emerged in Korea that Kamui Kobayashi is also almost certainly on his way out of F1, Nico Hulkenberg has been brought in to lead the team in 2013. The Mexican connection could continue with Esteban Gutierrez in the second seat to appease sponsors, but FR 3.5 Champion Robin Frijns is also being linked with a move to the Swiss team.
Toro Rosso
Confirmed: N/A
After a very average start, Jean-Eric Vergne's vulnerability has softened as the season has progressed and the general - if rather unenthused - expectation is that both Vergne and Daniel Ricciardo will be offered another year in which to belatedly prove themselves potential successors to Webber and Vettel.
Caterham
Confirmed: N/A
Change is afoot but nobody at this stage can be sure what is occurring. After an undistinguished year, Vitaly Petrov's place is in jeopardy while Heikki Kovalainen is out of contract and not out of the question for Force India and Sauber. If the team requires extra funds, then Bruno Senna may figure prominently in Caterham's thoughts, but it's believed that another well-funded driver, the afore-mentioned Alguersuari, has already been offered a seat for next year. The Spaniard might, though, be holding for something better - such as the also-aforementioned Force India and Sauber.
Marussia
Confirmed: N/A
The word in the paddock is that Max Chilton - recently appointed the team's reserve driver - is poised to be one of four Brits on the 2013 grid, but even the rumour-mongers aren't saying whether Charles Pic or Timo Glock will make way. Were Glock to be kept on, Pic may emerge as another - and tempting - option for Caterham.
HRT
Confirmed: N/A
Other than to speculate on the feasibility of the team appointing a Spanish driver following their relocation to Madrid, it's far too early to even guess what HRT might be contemplating for 2013 - after all, it wasn't until the first week of February that the team completed the 2012 grid by confirming the appointment of Narain Karthikeyan.
Pete Gill