Zanardi returns to Brands
Former F1 driver aiming for Paralympic gold
By William Esler. Last Updated: 16/08/12 10:25am
Former Formula 1 driver Alexander Zanardi will be back on track at Brands Hatch next month when he represents Italy in the Paralympics.
The 45-year-old drove for Jordan, Minardi, Lotus and Williams during two stints in F1, either side of spells in IndyCar and Champ Car.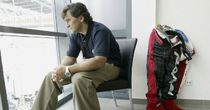 Alex Zanardi: Watches the Champ Car race, with his race legs behind him
In 2001, he lost both his legs in a horror crash at the EuroSpeedway in Lausitz. Having fought his way from the back of the grid to lead the race, Zanardi spun re-joining the banking after pitting and was t-boned at 200mph.
After emergency life-saving medical treatment at the track, he was airlifted to hospital in Berlin, where both of his legs were amputated above the knee.
Speaking about his rehabilitation in 2002, Zanardi said: "My race is now at the prosthesis centre of Budrio, the challenge is to make a pair of legs work. They do not have blood, but they hurt a lot, they are cold like metal, but they make me sweat as if I am always climbing, they allow me to move forward but they make me fall.
"That's why people value my tenacity."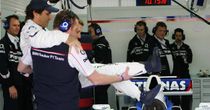 Alex Zanardi: Is helped into the BMW Sauber
Yet Zanardi was not out of racing for long, however. In 2003, he returned to the EuroSpeedway and prior to the start of the German 500 Champ Car race, he completed the final 13 laps he missed in 2001, driving a 2002 chassis adapted to have hand controls. His fastest lap of 37.487 seconds would have put him fifth on the grid for the race.
In 2004, he was back on track full-time, driving a modified BMW 3 Series in the European Touring Car Championship at Monza.
He finished an impressive eighth on his debut and went on to take a further seven top 10 finishes that season.
Zanardi's F1 Record
Teams: Jordan, Minardi, Lotus, Williams
Starts: 41
Points: 1
First race: Spain 1991
Last race: Japan 1999
The series became a World Championship in 2005, and Zanardi continued to show his pace, finishing 10th in the Drivers' standings and picking up his first win since the crash at the German round at Oschersleben.
In 2006, the BMW Sauber team gave the Italian the chance to return to an F1 cockpit, with a specially adapted car during a test at Valencia.
Just weeks before the 2007 New York Marathon, Zanardi decided to enter the hand-cycle race and despite a lack of training, he managed to finish fourth with a time of 1:33.17.
Since then he has gone on to win the New York Marathon in 2011 and heads into this year's Paralympic games as the Union Cycliste Internationale's (UCI) number one ranked cyclist in the H4 - Road category.
"The course couldn't be better, it's fantastic," told the Brands Hatch website.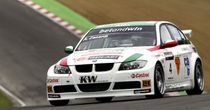 Alex Zanardi: In WTCC action at Brands Hatch
"The last part is the most difficult because in terms of personal pleasure and doing things right it is probably not the easiest area but when you reach the penultimate climb going to the hairpin (Druids) you are already very tired but you know that if you are more or less close enough in terms of time to your opponents, this is the area where you are either going to win or lose the race. You've got to be really able to make the difference in the last two climbs.
"Knowing the circuit better than anybody else I thought I would know where to negotiate braking points, where to slow down and take the right lines but in reality the course is so wide that you never even cuddle the brakes other than the first corner that goes onto the outside section, but I really enjoyed it, it is fantastic.
"Technically speaking I think it really suits my best talents but you've got to be powerful, you've got to be able to resist the distance of the time trial mainly but you also have to be smart because there are some areas where if you just keep pushing you're not going to reach the line in the best way.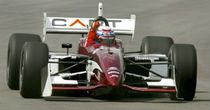 Alex Zanardi: Completed the final 13 laps in 2003
"I think I've done it 95% right in the simulation I've done today but everything is perfectible so I will try to sort it out with my trainer and come back stronger in September.
"You always have to come up with something that you always doubt whether you have it or not until the last minute and then that's why you're so happy when you cross the line in front of everybody else. Luckily for me it is something that I experienced in my racing career as a driver and hopefully it is something that I will experience here in September."