Sky Sports Exclusive: Christian Horner Q&A
On Friday night, Red Bull boss Christain Horner was the special guest on Sky Sports F1's The F1 Show, answering questions about Sebastian Vettel and Mark Webber, the World Champion's spat with Narain Karthikeyan and the ongoing row about the legality of the Mercedes...
Last Updated: 02/04/12 9:54am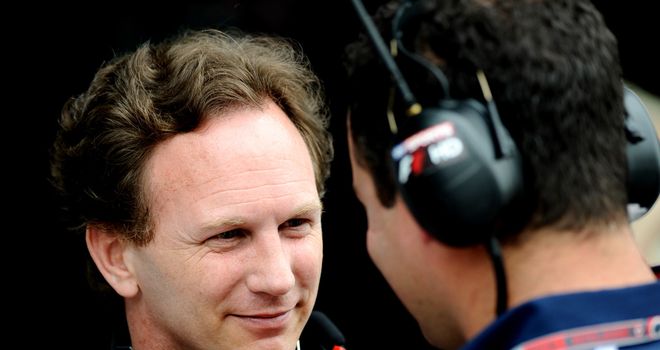 The F1 Show presenters Georgie Thompson and Ted Kravitz ask the questions...
Q: Let's talk first of all about Mark Webber. How impressed are you with the way he's handled those first two races?
CH: "I think Mark has had two strong first grands prix this season. He's wintered well, he tested in pre-season very competitively and I think the tonic of winning that final race at the end of 2011 was just the boost he needed. His qualifying performances have been strong.
"He was a little unlucky through the pit-stops in Malaysia - being the first team in the pit lane, we had to hold him for about five seconds where he lost quite a bit of ground to Fernando and Lewis. But he's driven very well and his confidence seems well and truly intact."
Q: Did he feel like he had a point to prove coming into this season after what happened last season?
CH: "I'm sure inevitably he did. Sebastian had the most dominant of years last year and when you're sitting in the same equipment, for any sportsman, for any driver, that's difficult to take. But Mark is an absolutely ruthless competitor. He's committed himself totally to his training, his preparation for this year and come out of the starting blocks this season very strongly and I think hopefully he can build a strong campaign off the start that's he had."
Q: So that's Mark. What about Sebastian Vettel's start to the season. What have you made of that?
CH: "I think Sebastian in his first race in Australia was exceptional. The passing move he made around the outside of Nico Rosberg was excellent. And then we were a little bit fortuitous with the safety car but even so his pace was very strong in that first grand prix in Australia. So to get a podium, to get a second place was more than we expected after qualifying.
"And then he was just a little unlucky. He was set for a good result in Malaysia when unfortunately the incident with the backmarker cost him 12 valuable points and 10 valuable points for the team. But Seb isn't totally happy with the car, certainly on a Saturday, and there's a few things hopefully in the pipeline that will help him with that. But on Sunday he's been very, very competitive."
Q: What was going on? There are reports all over the place what might have happened with this team radio, disobeying orders and what not. What actually happened?
CH: "Well, first of all, after the re-start we lost radio contact with Sebastian. We could see he was trying to use the radio but the radio unfortunately wasn't working. So all those messages were with a hope that they would get through to him.
"Basically, what the sequence of events was that, after the impact with Karthikeyan, the delaminating tyre damaged the left-rear braking cooling duct and the brake and corner of the car started going to a thermal runaway.
"So from a safety point of view we were genuinely concerned that there could be a catastrophic failure which could throw him into a nasty spin or accident. So at that point we were saying he should stop the car. Sebastian was managing the situation pretty well, he was aware of what was going on, he could feel that the brake pedal was going long from what he said to us after the race.
"And of course then Maldonado retires and you've got one lap to go and so you think 'okay, well let's stay out, see if something else happens' because there's a potential point on offer here. But then the temperatures continue to increase and that was when we said 'right, let's see if we can get him to stop the car' because we just don't want to take any risk with his safety.
"But those messages unfortunately didn't get through to the car. Sebastian, as it turned out, didn't really use the brakes at all on that last lap and was keen to see the chequered flag."
Q: Afterwards, Sebastain wasn't particularly complimentary about Karthikeyan. He called him a gherkin or a cucumber - whatever it is in Germany. He likened him to an idiot in the English language. Losing his cool a bit?
CH: "These guys get a microphone shoved in front of him just after he's effectively lost a fourth-place position and of course he was annoyed, he vented his frustration. But it's one of those things. I think that any driver in that situation would be totally annoyed with the situation.
"Obviously the stewards deemed that Narain was in the wrong and dealt with it accordingly. But I don't think anybody could blame Sebastian for being a bit frustrated in that situation."
Q: Have you spoken to him since? What's he had to say, what have you said to him?
CH: "He was in the factory on Tuesday working on the simulator. Even half an hour after the race, he'd cooled down about it.
"Obviously frustrated, he was driving very well, he was closing in on Lewis, and of course he was wanting to finish the race in a positive manner and there were a lot of points on offer there. Unfortunately, it looked like Narain was in his own race with the Marussia car. Contact happened and unfortunately it effectively caused an instantaneous puncture, the valve on the tyre effectively collapsed. One of those things."
Q: Let's get an update on Mercedes' F-duct. Are you still trying to get this banned?
CH: There's been an awful lot of debate about this and believe me it's not just Red Bull - I think there's half the paddock that's been looking at this.
"First of all, it's a very clever device and hats off to Mercedes for integrating it into their car. It sits in our opinion in quite a grey area of the regulations and whilst it's been deemed so far to be okay, we just want that clarity going forward before pursuing it, committing resource, finance and cost, to a system like this moving forward."
Q: So where are you at now?
CH: "Charlie Whiting, the technical delegate, has been taking it all into consideration and there was several discussions with him over the weekend. I think he wanted to have a think about it and of we'll of course respect his position when he makes that clear to us in China.
"Then the teams are faced with alternatives. Either accept it and get on it and maybe look at your own solution if that fits your car. You've got the opportunity to protest if we were to feel, or any other team were to feel, that we didn't agree with Charlie's interpretation."
Q: So you're waiting are you, to see what FIA Race Director Charlie Whiting says before you build your own?
CH: "Yes, clarifications have been requested from the FIA as to if they will continue in future races to deem this as a permissible device. So we will see what response come back."
Q: Aren't you going to lose time though by arguing the point? You must have started developing your own...
CH: "As with all devices like this it's how it interacts with the rest of the car. Of course I'm sure all the designers certainly at the front end of the grid have been looking at how the device works, how you would incorporate it into your own design. But before we pursue constructing parts and expense to it, for us it's quite important to know that, yes, it's going to be permissible for the rest of the year. And quite often we see technical clarifications come out that deem things to be not in compliance with the regulations."
Q: It actually hasn't done Mercedes any favours in the race. Maybe there hasn't been a result you can protest because you're not going to gain anything if they get chucked out. You need to really take it to the Court of Appeal, is that right, so your lawyers can get stuck into it?
CH: "I think that's the process if it were to go that route, then yes, you protest the stewards who would hear the debate, rule either way, and then either party has got the right to appeal their decision. We hope it doesn't go down that route.
"It's a clever idea. As I say, hats off to Mercedes. It's something that we believe has been going on perhaps last year to a lesser degree and I think before we all charge off in that direction, as with so many of these decisions like the F-duct, like the double-diffusers, like so many other devices that end up getting banned, we just want to make sure that is something that's going to be round for the rest of the season.
"And if that is the way it is then obviously we'll pursue our own routes if we think it adds performance to our car."
Source: The F1 Show