De la Rosa - HRT on schedule
Spaniard thinks new car will be ready during pre-season testing
Last Updated: 06/02/12 12:28pm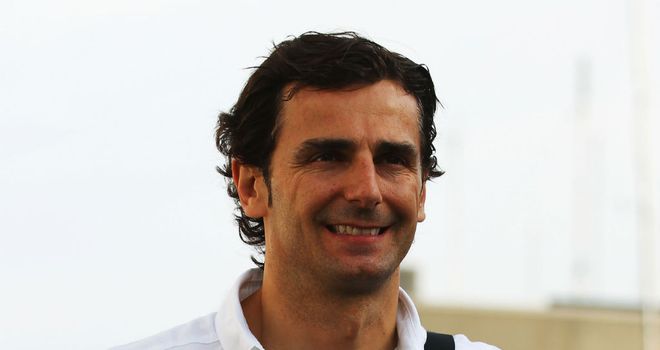 Pedro de la Rosa: Does not think development of HRT's new car will be delayed
Formula 1 Betting

Formula 1 Betting

Bet with Sky Bet
Pedro de la Rosa is confident that HRT will be able to get their 2012 car out on track in time for the second pre-season test of the year at Barcelona.
Last year, the Hispania F111 did not make its debut until practice for the season-opening Australian Grand Prix, meaning neither of their drivers qualified for the race.
There have been suggestions that their new challenger could also be hit by delays which would prevent it from running during testing.
HRT is set to run its 2011 car in the opening test session at Jerez, but de la Rosa thinks the new machine will be ready in time for the Barcelona test, which begins on February 21.
"The plan is to test with the old car at Jerez, and then run the new car in the Barcelona test on February 21. That's the plan," de la Rosa told Autosport.
"It's been said there are delays, but I don't see it that way. I think the whole process of producing the car started very late and the team is making a superhuman effort to have the new car on track on February 21.
Calm
"I'm very calm. From the day I signed I knew that this was more or less the plan. It hasn't been modified."
He added: "The plan is to have a pre-season that is as long as possible. It's always best to do as many kilometres as possible. But it's not a critical situation because it's going according to plan.
"Things get more intense when those plans have to change because the parts are late or because there are problems, but it's not the case. I think that having two tests before Australia we will be fine. There are bigger teams who have also opted to do this too."
HRT have regularly brought up the rear of the grid since entering Formula One in 2010 and de la Rosa, who has signed a two-year deal with the team, is eager to see them take a small step forward.
"Our realistic goal is to improve, first of all. Improve race by race," the 40-year-old Spaniard said.
"What we need to make clear is that a victory for us is not winning a race, but simply improve in every race. And for that we need to be the best new team to be in the top ten (in the championship)."