Marussia complete crash investigation
Team exclude possibility of car fault in de Villota accident
Last Updated: 16/07/12 11:39am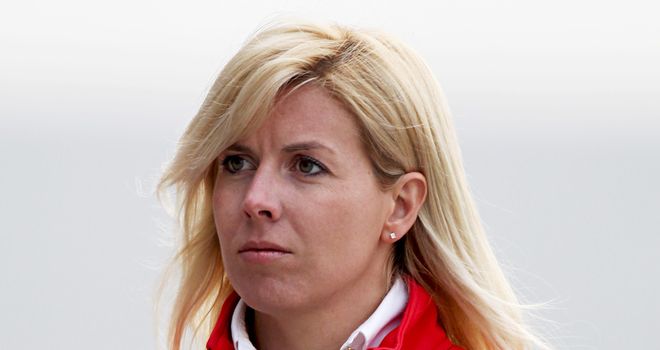 Maria de Villota: Sustained serious head and facial injuries
Marussia have confirmed that investigations into Maria de Villota's accident in straight-line testing earlier this month have shown that the crash was not caused by a fault with their MR-01 car.
The Spanish test driver lost her right eye and was in intensive care in hospital for a number of days after her car crashed into the tailgate of an equipment lorry in the makeshift pit area at the end of one of her first runs at Duxford Airfield.
Marussia immediately launched an in-house investigation into the accident and have now announced that the findings showed that there were "no car-related issues" at play, with a further forensic investigation since carried out by an external firm. Both sets of findings are being passed on to the Health and Safety Executive.
"The Marussia F1 Team conducted an initial analysis immediately after the crash. This aimed to identify the causes and contributory factors behind the accident and also served to determine if there were any car-related implications for the impending British Grand Prix," Marussia said in a statement.
"Having carefully examined all the data and supplementary information available at that time, the Team were satisfied that there were no such car-related issues and cleared its chassis for race weekend participation.
"Following its initial investigation, the Team proceeded to carry out further detailed analysis of the accident. An external forensic investigation was commissioned and carried out at Duxford Airfield (a FIA-approved and much used testing venue, compliant with the recommendations for a test of this nature) and with the team at the Marussia Technical Centre in Banbury. This external analysis has been carried out autonomously of the team's own internal investigation.
"As would be normal procedure, the Team's findings have been shared with the Health & Safety Executive (HSE), the independent UK regulator which acts in the public interest in respect of work-related accidents."
Last Wednesday Marussia confirmed that 32-year-old de Villota had been moved out of the Neurological Critical Care Unit and been conversing with her family, who remain at her bedside.
Team Principal John Booth added in Monday's latest statement that with their own investigation now completed, the team remained fully focused on helping ensure de Villota's recovery continues to go to plan.
"We are satisfied that the findings of our internal investigation exclude the car as a factor in the accident. We have shared and discussed our findings with the HSE for their consideration as part of their ongoing investigation," he said.
"This has been a necessarily thorough process in order to understand the cause of the accident. We have now concluded our investigatory work and can again focus on the priority, which continues to be Maria's wellbeing. In that regard, we continue to support Maria and the De Villota family in any way we can."