Hamilton holds his counsel
McLaren star says seven-times world champion's tactics were "interesting"
Last Updated: 11/09/11 7:25pm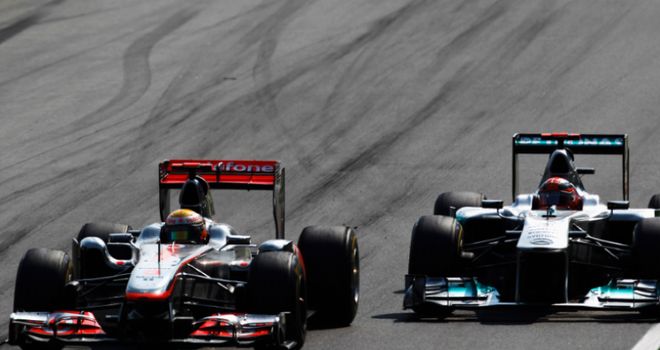 Fierce battle: Hamilton and Schumacher
Formula 1 Betting

Formula 1 Betting

Bet with Sky Bet
Lewis Hamilton held his counsel in the wake of a fierce battle with Michael Schumacher during the Italian Grand Prix that cost him any chance of victory.
The McLaren driver eventually found a way past seven-times world champion Schumacher but lost time and was forced to settle for fourth place as Sebastian Vettel scored his eighth win of the season.
Sunday's result has also dealt Hamilton's already slim title chances another blow: with 150 points available from the final six races, he is now 126 adrift of Vettel.
Hamilton spent half the race stuck behind Schumacher, unable to find a way past the German's Mercedes GP car which, while slower in terms of lap time, was quicker down the long straights at Monza.
After a good start, Schumacher passed third-placed Hamilton at a safety car restart, with the latter forced to take to the grass at one stage as he looked for a way back past.
McLaren team-mate Jenson Button eventually showed him the way to do it but as the race progressed Hamilton complained to his team over the in-car radio that Schumacher had weaved to defend the position.
Unlike in Malaysia, where Hamilton was given a retrospective drive-through penalty for making more than one change of direction to defend his position, the stewards merely warned Mercedes who in turn informed Schumacher.
It was not until lap 27 that Hamilton finally found a way past, by which time the top three were effectively home and dry, with him running out of laps as he closed in on third-placed Fernando Alonso, finishing half a second adrift of the Ferrari. Button, meanwhile, finished second.
Unlike in the past, when Hamilton has vented his frustration post race, he refused to criticise Schumacher's tactics - the 2008 world champion instead adopting a terse diplomacy when answering reporters' questions.
Challenge
"It was interesting being behind him," said Hamilton. "It was a real challenge to get past. He was incredibly fast, and I was just a little bit slower on the straights, which is why I could not pass.
"He was as fast, if not faster than me down the straight, even when I had my DRS (drag reduction system) engaged, so it was difficult for me to overtake.
"This is not a great result to be honest. We started second and I dropped back two places, so I'm definitely not happy.
"At least I finished and got good points for the team, so that's a good step.
"With six races left we'll continue to push, and I hope we can get a couple more wins for the team."
Asked if Schumacher had been fair with his blocking, Hamilton added: "That's racing. It doesn't make any difference.
"I got past eventually and was able to finish ahead."
Harsh
Instead, it required team principal Martin Whitmarsh to express McLaren's disappointment with Schumacher's defending.
"I felt it was pretty harsh," said Whitmarsh.
"I'm not the least impartial person, but the fact is he was warned twice, and the one where he had Lewis on the grass was as scary as hell.
"Lewis complained a few times, but in a very calm way. His job is to do that in case the stewards don't see anything.
"I think it was heartfelt anyway, also sincere and reasonable."
Schumacher, who finished fifth, said: "The fighting against Lewis was big fun, and my mirrors seemed to be very small at times. We are both known for driving on the limit, and that is what we did.
"I had to make my car as wide as a truck, and had to stretch the possible as much as I could, but in the end, as expected, he was still faster."