Pole delights Vettel
World champion thinks Red Bull will control race on Sunday
Last Updated: 07/05/11 3:09pm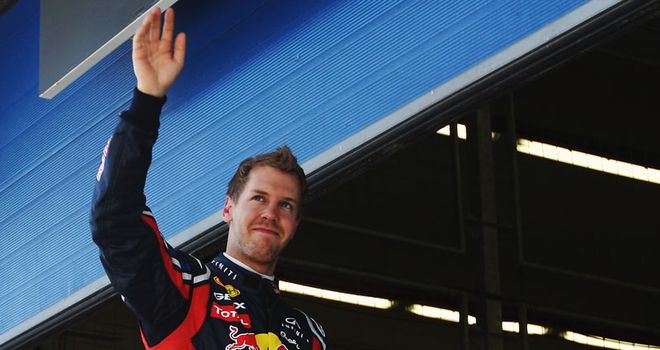 Vettel: Big favourite to win on Sunday
Formula 1 Betting

Formula 1 Betting

Bet with Sky Bet
Sebastian Vettel is confident Red Bull can retain their qualifying advantage in Sunday's Turkish Grand Prix at Istanbul Park.
The German, who crashed on Friday and missed the second practice session as a result, comfortably beat team-mate Mark Webber to pole position by over four tenths of a second.
The fastest non-Red Bull car was Mercedes' Nico Rosberg, who was over half a second off the pace in third place.
Vettel and Webber were not even sent out for a second run in the final part of qualifying, such was their margin over the rest of the field.
"I'm very happy with the result, and I like the track which helps, and I was able to come back and find a rhythm," Vettel said.
"Both Mark and myself decided to skip the second run, which is a very funny feeling because you know the others can beat you.
"So it was very strange watching them go round whilst you are stood in the garage."
Tyres
"I'm confident we will have a good race and that all the action will be behind us."
Sebastian Vettel Quotes of the week
Vettel was also on pole position at the last race in China but was beaten by Lewis Hamilton in the race after he suffered from sticking to a two-stop strategy.
High tyre-wear is expected again in Turkey and Vettel thinks managing the rubber will be crucial to his chances of success.
He added: "I'm sure the race will be as hard, managing the tyres, and we will see how many stops we end up with.
"I'm confident we will have a good race and that all the action will be behind us."
Webber faced a more nervous wait in the pits in the closing stages of qualifying as Rosberg came close to beating his time.
He said: "It was a bit more interesting for me. I would like to have had a couple more tenths (of a second in hand).
"Every lap you can do today might help you tomorrow, but we're in the best shape we can be in terms of grid positions and tyres. It was a good decision from the team, a little bit of luck of course, but I'm very happy."