Silverstone in stay away plea
Circuit says those using public parking should not come on Saturday
Last Updated: 07/07/12 8:25am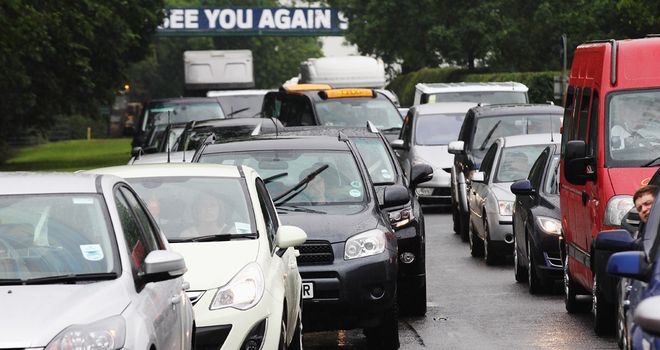 Friday at Silverstone was marred by traffic chaos
Formula 1 Betting

Formula 1 Betting

Bet with Sky Bet
The chaotic start to the British Grand Prix weekend has continued with Silverstone advising some fans to stay away on Saturday.
Circuit officials have said that spectators who are planning to use the public parking facilities at Silverstone should not attend due to the torrid weather conditions.
Heavy rain has meant that some of the car parks at the circuit are no longer usable, something which appeared to be one of the reasons behind the gridlocked roads around Silverstone on Friday.
Silverstone, who have pledged to refund unused tickets from Friday and Saturday, also stated that fans who have booked park and ride facilities or are in local campsites should not be affected.
"Silverstone are strongly encouraging fans with public car parking on Saturday not to come to Silverstone tomorrow, 7 July," a statement from the circuit said.
"Unless spectators have pre-booked park and ride or are in local campsites and able to walk to the circuit we strongly advise that they do not attend the qualifying day of the 2012 Formula 1 Santander British Grand Prix.
"The reasons we have taken this action is due to the fact that we have lost some of our car parks today in the awful wet weather that we have suffered over the last weeks, and, in particularly, the last 36 hours.
"We must do our very best to protect as much of our car parking as possible ahead of Sunday.
"Fans will be refunded for any unused Friday or Saturday tickets and full details on how this will be handled will be communicated early next week."