Texas organisers hopeful
Circuit boss thinks 2013 race now more likely
Last Updated: 18/11/11 11:00am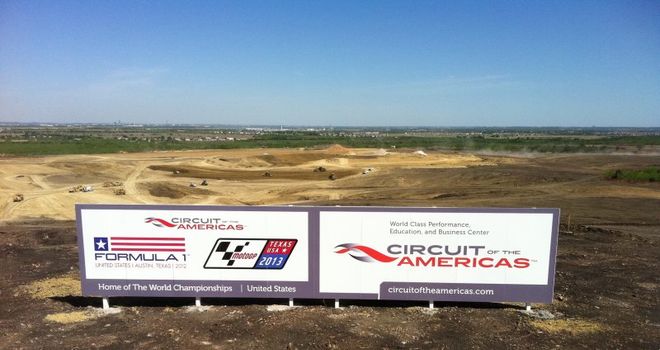 Doubt: Construction at Circuit of the Americas has stopped
Formula 1 Betting

Formula 1 Betting

Bet with Sky Bet
US Grand Prix promoter Tavo Hellmund remains hopeful that Austin can host a race next year despite losing the rights to the race and the apparent support of Formula One supremo Bernie Ecclestone.
Ecclestone has said the race could be removed from the 2012 calendar after he cancelled his original deal with Hellmund's Full Throttle Productions because of a breach of contract.
F1's commercial rights controller has been left to deal with the track developers, Circuit of the Americas (COTA), but has also run out of patience with them after they failed to provide a guarantee or letter of credit that he will be paid.
Hellmund, whose father worked with Ecclestone to put on the Mexican Grand Prix in the 1980s, said his company and COTA only had themselves to blame for the fallout.
"The reason we don't have a contract with Formula One is because as a project, we have failed many times over to fulfill our financial obligations to Formula One. It's literally that simple," he said on Thursday.
"Right now we should be praising Mr. Ecclestone. We were in breach on multiple issues as late as May. And he sent numerous requests and letters that we were all aware of how to fix it and we failed to do that."
Difference
Hellmund said the problem stemmed from an attempt by Full Throttle Productions to buy COTA out. He said COTA declined and despite a subsequent agreement for the track owner to take over his company, no deal has gone through.
"I don't really want to get into the weeds about that. Let's just say there's been a difference of philosophy and for the good of the project I'm willing to do whatever it is for the project to go forward," he explained.
The prospects of the grand prix going ahead as planned in November next year appear to be fading fast, with track construction recently halted after COTA officials failed to receive a race contract.
Complicating matters further, state government officials have said funds initially promised for the race would no longer be paid out in advance after the announcement that another United States Grand Prix would be held in New Jersey in 2013.
Although Hellmund remains optimistic that the 2012 race might be saved, COTA president Steve Sexton indicated on Thursday that a 2013 start-up might be a better possibility.
He said: "We have been excited for, and working towards, a 2012 USGP race and now understand that Mr. Ecclestone is interested in moving the Austin race to 2013.
"We know the US market is important to the teams and their sponsors and 2013 certainly allows time for the Circuit of The Americas to be ready."
The FIA's World Motor Sport Council is due to confirm the 2012 calendar early next month.