Red Bull cleared by stewards
Hockenheim stewards rule engine map doesn't breach official regulations
Last Updated: 22/07/12 11:24pm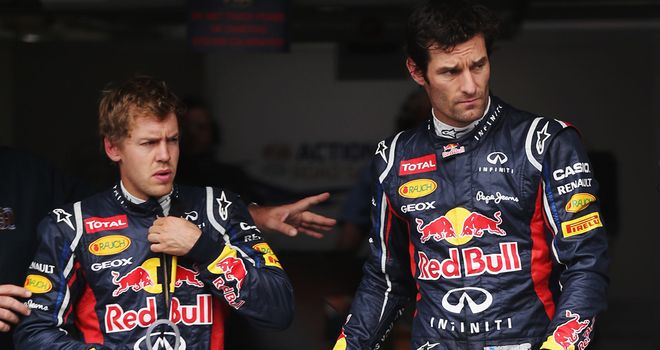 Cleared: Vettel and Webber will start from second and eighth as expected
Formula 1 Betting

Formula 1 Betting

Bet with Sky Bet
Red Bull have been cleared to race as normal in the German Grand Prix after race stewards decided to take no further action over an engine map in use on their RB8 car.
Following a referral by the FIA Technical Delegate Joe Bauer regarding the potential breach of regulations late on race day morning, the stewards panel at Hockenheim deliberated on the controversy for a couple of hours before announcing that no further action would be taken.
Although the stewards said they did not accept all the arguments put forward as part of Red Bull's defence, they ultimately decided that under the regulations as written no breach had been committed over the engine map in question.
"The Stewards received a report from the FIA Technical Delegate, along with specific ECU data from Red Bull Racing Cars 1 and 2. The Stewards met with team representatives and the representative of the engine supplier Renault," the statement read.
"While the Stewards do not accept all the arguments of the team, they however conclude that as the regulation is written, the map presented does not breach the text of Art 5.5.3 of the Formula One Technical Regulations and therefore decide to take no further action."
The regulation in question, Article 5.5.3 of the FIA Technical Regulations which was inserted into the rulebook for this year as part of the effective ban on the off-throttle blown diffuser effect, states: "The maximum accelerator pedal travel position must correspond to an engine torque demand equal to or greater than the maximum engine torque at the measured engine speed.
"The minimum accelerator pedal travel position must correspond to an engine torque demand equal to or lower than 0Nm."
Bauer had suggested in his report to the stewards that Red Bull were deriding an aerodynamic gain via the blown diffuser effect via the map in question and that the team's Renault engines were delivering less torque than has been seen at other races.
Red Bull's drivers, which had faced the prospect of starting from at least the back of the grid should the team have been found to have committed an offence, will therefore start from their expected grid positions, with Sebastian Vettel on the front row alongside polesitter Fernando Alonso and Mark Webber eighth after an earlier gearbox penalty.
Prior to official confirmation that their RB8 had been cleared, the World Champions' Team Principal had told Sky Sports F1's Ted Kravitz: "We believe it absolutely does [comply]."
Although the stewards of the meeting have opted to take no action, there remains the possibility that one of Red Bull's rivals could protest the RB8's legality after the end of Sunday's race - although teams, such as in the Mercedes double DRS controversy at the start of the season, have tended to avoid such dramatic moves in recent times.