McLaren's Danish rising star Kevin Magnussen says he feels ready to step up to F1 in 2014
Formula Renault frontrunner heads a YDT session for second time
By James Galloway at Silverstone. Last Updated: 02/12/13 5:14pm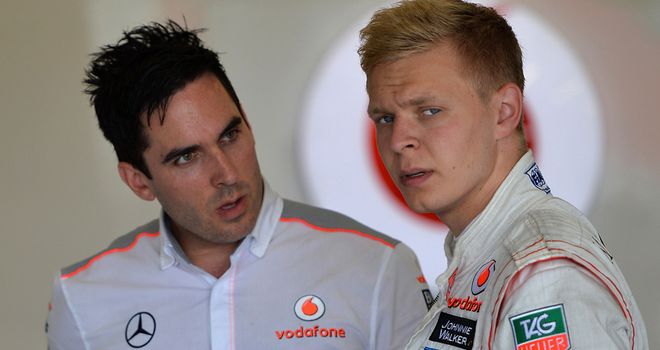 Kevin Magnussen: Continuing to make a name for himself
Formula 1 Betting

Formula 1 Betting

Bet with Sky Bet
Young Driver Test pacesetter Kevin Magnussen admits he "feels ready" to step up to Formula 1 full time but insists he won't let those ambitions distract him achieving his more immediate 2013 goals.
For the second time in his nascent F1 testing career the 20-year-old Dane, the son of former McLaren and Stewart driver Jan, set the pace on the opening day of a Young Driver Test after a late lap took him past Force India's Paul Di Resta at the head of the Silverstone timesheet.
Magnussen was the only driver in the 12-man field to complete 100 laps and speaking to reporters afterwards the Formula Renault 3.5 frontrunner, while acknowledging the famous caveats that accompany testing timesheets, admitted he nonetheless thought it had been "a good day" for both himself and McLaren. He also made clear his late lap hadn't been a qualifying-style simulation.
Asked about his ambitions of stepping up to F1 full time going forward, the Dane insisted that winning his current championship was his overriding 2013 target - Magnussen currently sits just three points off the pace in the FR3.5 standings - before he looked at what followed next year.
"We have to see where we are, I feel ready for Formula 1," he told reporters.
"I have a championship to do in World Series by Renault so I'm really focusing on that and when I'm finished in the championship I'll see where I am.
"Some things might have changed. I'm confident that we're going in the right direction but you have to evaluate everything. You have to have a plan but you have to evaluate yourself all the time so we'll see by the end of the year what chances I have and how we feel."
Pressed on whether, for instance, he had a two-year target to become a full-time F1 driver, Magnussen replied: "We have a plan that I should try to win [the championship] this year and then hopefully get a chance in Formula 1 somewhere. We all know it's not easy and you have to adapt to the circumstances and do the best you can all the time and see then where it takes you."
Magnussen's timesheet-topping performance on Wednesday comes eight months after he set the pace on the corresponding day at the Abu Dhabi rookie sessions, the test which represented his first in F1.
Speaking on Wednesday evening, he agreed that the intervening period had allowed him to make an additional step forward.
"Yes [I have improved], because I'm working with the team also when I'm not testing," the youngster added.
"So learning more about Formula 1 and being educated all the time. I learn more and more about the technical side of Formula 1 and that's very important thing when you're testing.
"You have to have knowledge about the car and that's improving all the time, so of course I feel better this time than last time - that's natural."
McLaren are one of only two teams in the field not running either of their race drivers across the three-days, meaning their test drivers can exclusively concentrate on development work.
Although on the Woking team's simulator roster, Magnussen has yet to drive the struggling MP4-28 in the virtual world so admitted that making comparisons between the simulator and track was difficult for him.
Nonetheless, he said the one-day run-out would only enhance his input in the future.
"[Getting track time is] very important for correlation to the simulator and to improve the simulator," he added.
"That's also improving all the time and it's important for the simulator drivers to feel what the real car is like and to compare with the sim."
Magnussen now hands the MP4-28 over to fellow McLaren test driver Oliver Turvey, before the more experienced Gary Paffett takes over on Friday.