Press question McLaren handling of saga
British F1 media ask whether McLaren could have done more to keep hold of Lewis Hamilton
Last Updated: 29/09/12 5:32pm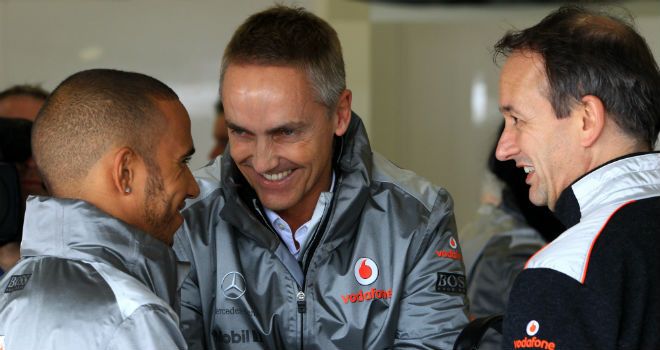 Lewis Hamilton with McLaren chiefs Martin Whitmarsh and Jonathan Neale
Formula 1 Betting

Formula 1 Betting

Bet with Sky Bet
McLaren's handling of the Lewis Hamilton contract saga has been put under scrutiny by the British press a day on from the bombshell announcement that the team's prized asset will defect to Mercedes at the end of the season.
With the sport continuing to digest the news that Hamilton will leave the team that has nurtured him since the age of 13 for what he himself has described as a "fresh challenge" at Brackley, the F1 media corps have analysed how McLaren conducted the ultimately unsuccessful contract renewal process, and the potential fall-out from it.
The Guardian described the failure to agree a new deal with Hamilton as a "gaffe", and said that while both parties may live to regret the parting of the ways, accused McLaren of not sensing the danger of a rival offer with enough urgency.
"It was the driver's call, not the team's, but McLaren were culpable," the newspaper wrote.
"There is every sign that they were too complacent about the dangers before them, dangers that the team principal Martin Whitmarsh dismissed as "fantasy" while stating that his outfit had "no Plan B" in the event of losing their star driver, the biggest box office attraction in this rowdy roundabout.
"They appear to have underestimated XIX Entertainment, who have a strong track record when it comes to delivering lucrative contracts. They may have underestimated Mercedes too. The sadness is that Hamilton and McLaren needed each other but like so many symbiotic relationships they failed to recognise their interdependence."
The newspaper then added succinctly: "McLaren could have kept Hamilton if they had been smarter. Instead, they were caught cold and then reacted as slowly as Narain Karthikeyan negotiating a hairpin."
The Daily Telegraph even speculated whether or not pressure would now come on Team Principal Martin Whitmarsh given McLaren Group Chairman Ron Dennis, speaking in the immediate aftermath of Hamilton's victory at Monza to Sky Sports F1, had made clear that it was Whitmarsh's "job to get to where we want to get to" in the contract negotiations.
"The question now is whether heads will roll at McLaren for failing to get Hamilton to sign," it asked.
"It would seem doubtful although executive chairman Ron Dennis was clear at Monza three weeks ago that it was Whitmarsh's responsibility to get Hamilton over the line. He failed to achieve that.
"Asked about Dennis's reaction to that failure and whether he might contemplate retiring as a result of having let one of the fastest drivers of his generation slip through his fingers, Whitmarsh chose to avoid the question."
The Daily Mail, meanwhile, suggested that if McLaren's failure to sanction Hamilton for his tweeting of telemetry overlays at Spa had been designed to keep the 27-year-old on side, then it had backfired.
"As for [Hamilton] posting team telemetry on Twitter last month, it was a sacking offence. Yet McLaren team principal Martin Whitmarsh, a nice man with a chummy style of driver management, exercised no governance over his man. No fine. No serious admonishment. Pathetic. Perhaps he feared pushing Hamilton away amid delicate contract talks. Well, look where it got him.
"That said, Hamilton likes Whitmarsh. More than he does McLaren chairman Ron Dennis, whose cold manner after the win at this month's Italian Grand Prix registered with Hamilton."
Although Whitmarsh has stressed that McLaren did all they could to keep the 2008 World Champion with a financial offer that would have topped any other driver salary on the grid, the Daily Express suggested there was however an obvious silver lining to the impending loss and arrival of Sergio Perez.
"Lewis Hamilton turned down a deal which would have made him the best-paid driver in Formula One as he decided to move to Mercedes - but he and McLaren will make millions more without each other," the newspaper wrote.
"His departure has allowed McLaren to link up with the world's richest man, Carlos Slim, whose companies back Hamilton's replacement, Sergio Perez.
"The Mexican will earn about £3million a year, a fraction of the annual retainer of £15m which could have climbed to £25m with bonuses and extras for titles if Hamilton had signed for another five years."