Hamilton: 'Speculation untrue'
McLaren driver says recent reports have been 'rubbish'
Last Updated: 19/09/12 4:31pm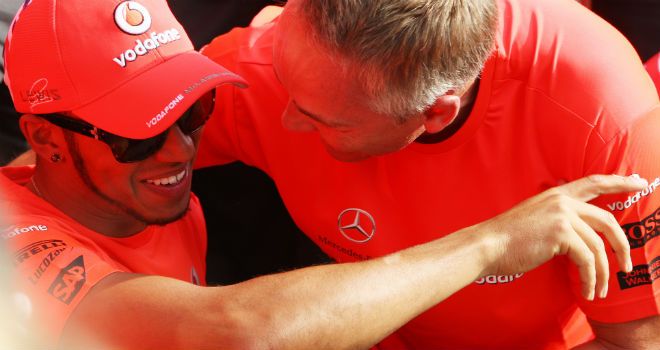 Hamilton won in Italy last week
Formula 1 Betting

Formula 1 Betting

Bet with Sky Bet
Lewis Hamilton has poured cold water on claims he is poised to join Mercedes by describing recent speculation about his future as 'rubbish'.
Hamilton's plans for 2013 and beyond have been the subject of fevered speculation for the past two weeks after pundit and former team boss Eddie Jordan announced that a transfer for Hamilton - out of contract at the end of the season - from McLaren to Mercedes was 'imminent'. Since then, a deluge of reports about Hamilton's perceived unhappiness with McLaren have added fuel to the already burning fire.
However, speaking after being the star act of a night exhibition race in Mumbai, Hamilton indicated that reports he was set to quit McLaren were wide of the mark.
"I think we're all wise enough to understand that people write things and that what is written is not necessarily what is true," Hamilton said. "There's a lot of speculation, there's a lot of stories that aren't true."
Instead, Hamilton stressed that he was staying focused on winning this year's World Championship - an ambition significantly bolstered by his win at Monza last Sunday.
"I've been with the team since I was 13 and we've worked so hard since 2009 to try and win this championship and hopefully, finally, we're in the position where we can.
"So the most important thing is that I do not get distracted by all the rubbish that's been around."
Nonetheless, speculation will continue to rage until the 2008 World Champion finally puts pen to paper on a new deal either with McLaren or Mercedes - something which Hamiton remains in no rush to do.
"I don't have a timeline," added the 27-year-old. "My focus is on trying to win this world championship.
THE ONLY PLACE TO BE
Sky Sports F1 HD is THE only place to watch the 2012 F1 season in full live. Our extensive coverage continues with the Singapore GP:

FRIDAY 21st - P1 from 10.45am. P2 from 14.15pm

SATURDAY 22nd - P3 from 10.45am. Qualy from 13.00pm.

SUNDAY 23rd - Race from 11.30am

To find out all the different ways to watch the action, click here
'Of course I do have to have those things sorted out but I do have people in the background working on those contract negotiations."
Meanwhile, a 'source close to XIX Entertainment', the group which manages Hamilton, has insisted to The Daily Telegraph that it is not 'pushing' their client to join Mercedes in order 'to cash in on Formula One's biggest star.'
"There is absolutely no way XIX would push Lewis to make a decision which would be to the detriment of his career," the unidentified source told the newspaper.
"The most important thing for Lewis right now is to win more world championships - and that is the most important thing for Simon [Fuller, Hamilton's manager] as well. He wants Lewis to be as successful as he possibly can be on the track in order for him to be as successful as he can be off it. But there is plenty of time for all that. Simon is taking a long-term view of Lewis's career. This is a decision for Lewis and Lewis alone. 100 per cent."