'Lewis edging closer to Merc'
Decision expected next week to bring closure to summer's longest saga
Last Updated: 19/09/12 10:11am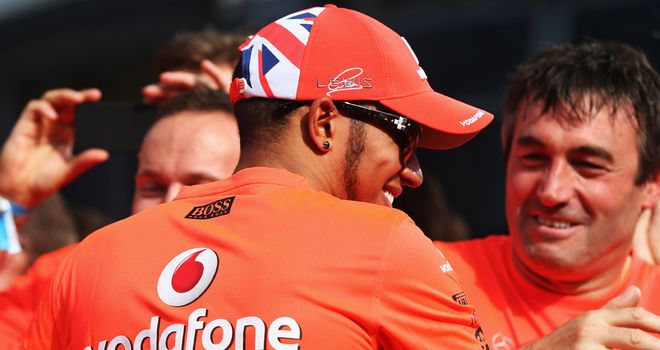 Is Hamilton about to turn his back on McLaren?
Formula 1 Betting

Formula 1 Betting

Bet with Sky Bet
Fresh reports claim that Lewis Hamilton is 'edging closer' to joining Mercedes and McLaren 'now have have no better than a 50-50 chance' of persuading the 2008 World Champion to sign a new contract.
According to The Daily Mail, Hamilton's future is finally set to be resolved 'in the run-up to next weekend's Singapore Grand Prix' and the newspaper claims that Mercedes are now in pole position to secure Hamilton's services for 2013 and beyond.
'McLaren's latest offer to Hamilton to extend his contract, which expires at the end of the current campaign, is understood to be worth considerably less than his existing £15million-a-year terms,' it reports.
'By contrast, Mercedes are desperate to make Hamilton the linchpin of their expanding involvement in Formula One and have offered to match his current deal, while bonuses could push the sum towards £60m over three years.
'The 2008 world champion is understood to have been shocked by McLaren's unwillingness to at least match his current salary, the major sticking point being the perceived undervaluing of his image rights which he must sign away to their army of sponsors.'
From the point of view of joining Mercedes, meanwhile, the major sticking point would be the absence of a winning pedigree - the team have won just a single grand prix since returning to F1 as a fully-fledged outfit three years ago.
However, the Mail declares that 'Hamilton is understood to be satisfied that, with Brawn at the helm and the backing of one of the planet's biggest car manu-facturers, Mercedes can provide him with a car capable of realising his dream of emulating Ayrton Senna's record of three world titles.'
Were Hamilton to depart, it would leave McLaren in an unexpected quandary about who to appoint as Jenson Button's team-mate for next season. Speaking at Monza last week, team boss Martin Whitmarsh admitted "I haven't given Plan B any thought", but reports have since suggested that Heikki Kovalainen, who drove for the team as Hamilton's team-mate before Button, Sergio Perez and Paul di Resta would be the leading candidates.