Button: Strong start needed
2009 Champion says McLaren must hit the ground running
Last Updated: 01/02/12 5:12pm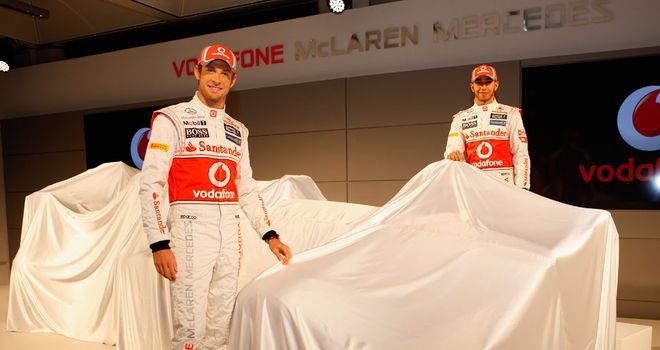 Can't wait to jump in the car: Jenson Button with Lewis Hamilton at McLaren's launch
Formula 1 Betting

Formula 1 Betting

Bet with Sky Bet
Jenson Button has conceded that McLaren must make a flying start to the Formula 1 season if they are to challenge Red Bull this year.
The Woking team finished second in the Constructors' Championship last year but despite both Button and Lewis Hamilton claiming three victories, neither came close to challenging the dominance of Sebastian Vettel.
Vettel's title defence was laid on the foundations of a stunning run of early-season victories, broken only by Hamilton's win in China.
Button had to wait until June to open his own account in Canada - McLaren in general playing catch up having encountered difficulties with a radical new exhaust design.
As a result, McLaren wasted valuable time during pre-season testing and the 2009 World Champion said he hoped a similar mistake would not be repeated.
"Testing is now very important. We've got to come out of the box and be strong," Button said at the launch of McLaren's MP4-27 chassis on Wednesday.
"Testing is what it says on the tin, it's about finding your feet, about gaining in confidence in the team you're working with and the car you're driving.
"We're excited, I'm sure every team is a bit apprehensive when it comes to testing so I can't wait to jump into the car."
F1 ON SKY SPORTS
You can follow every single Formula 1 race live and uninterrupted on Sky Sports F1 HD as well as practice and qualifying sessions. Our new channel will also have expert analysis and highlight shows. Click here to find out more
Focused
Asked what he expected from main rivals Red Bull Racing this season, Button said he anticipated they would once again be strong.
"You don't suddenly build a bad car after wining the Championship for two years. We hope they do - but I would be surprised if they do," he said.
"We don't know where we stand, so the important thing is stay focused on what we do, look at the next few weeks and see where we stand then."
As for his thoughts on the appearance of McLaren's new car, which does not feature the step nose that Caterham opted for on their own chassis in line with new rules, the 32-year-old said: "This is a beautiful car, which for me is important. Many you see will not be."
Speaking to Sky Sports News, Button also stated that he fully intends to try and beat Hamilton in the Drivers' Championship again this year.
Button finished as runner-up to Vettel in the Drivers' Championship in 2011, with Hamilton down in fifth after an inconsistent season.
Fight
"You're both in the same car. Your team-mate is a guy that you learn from and work with to improve the car. But obviously at the end of the day you want to finish in front of your team-mate," Button added.
"That's the way it is, but he's not the only guy I want to finish in front of in 2012. There's a certain German that finished in front of me in 2011, so that's the guy that we're all aiming for.
"I think we're doing a great job right now. At this part of the season, it's about me and Lewis working together and improving this car so that we can fight."