Monisha Kaltenborn sings the praises of both Nico Hulkenberg and Sauber's C32
Team Principal says German driver realised his car's potential at Monza
By Mike Wise
Last Updated: 10/09/13 10:09am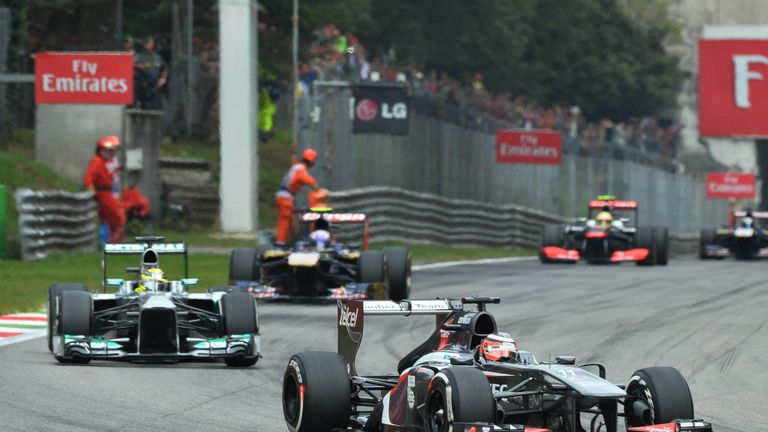 Having claimed a surprise third place on the grid during qualifying, Hulkenberg went on to give a similarly strong performance on Sunday. The German lost ground at the start but held his own thereafter and spent the majority of the race successfully repelling the advances of Mercedes' Nico Rosberg.
Speaking after the race, Sauber's Team Principal said Hulkenberg had made the best use of the C32 but emphasised the steps forward she feels they have made with the car.
"From my perspective the team did an excellent job and so did he. To be able to have this kind of a result, you have to have a car that allows you to deliver this kind of a result - and a driver who really makes it happen," Kaltenborn told Sky Sports Online.
"Looking at the car, we've made a few steps which we're continuously implementing so we can have the right understanding.
"That's what we seem to have because all we've been doing for the last few races is showing we are, step by step, getting competitive.
"Then, of course, you need a driver who can use that potential and deliver to what the best result can be."
Kaltenborn explained that the right understanding allowed them to successfully dial the car in after a slow start to the weekend, which saw Hulkenberg 16th fastest after Friday practice.
She also reckons it offers encouragement for the remainder of the season, even for a race such as the upcoming Singapore GP, which is run on the Marina Bay street circuit - an altogether different type of track to Monza.
"We don't want to compare what we did here to any other track. But you also have to understand that we came here with a very specific package," Kaltenborn said.
"We just made a Monza spec. and came here. What we've been doing because of our situation is that we have families of components and you just adapt to the different tracks and that's what we did here.
"We were actually concerned before we came here how competitive we might be. We were not as optimistic as this result shows today.
"But that tells us that we've really got the right understanding of the car. We did the right set-up changes and the right adaptation.
"That gives us confidence that, on that basis, we can also do the same thing for the coming races."
Hulkenberg's impressive display came on a weekend when his name was once again linked with moves elsewhere, specifically either Ferrari or Lotus.
When pressed on the 26-year-old's future with the Swiss team, however, Kaltenborn replied: "These are all speculations that I'm not going to comment on."