Vijay Mallya confirms Adrian Sutil an option should Nico Hulkenberg depart
Force India owner says Hulk still to tell him his 2013 plans
Last Updated: 28/02/13 3:25pm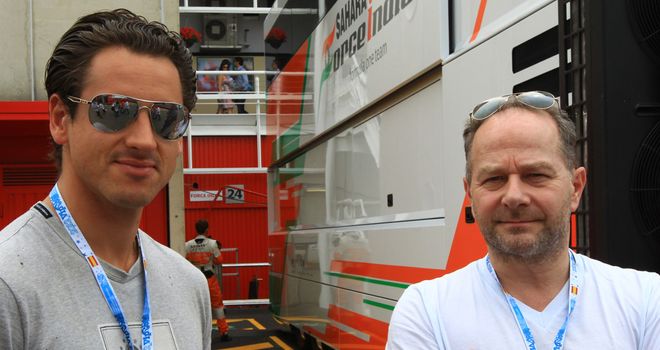 Adrian Sutil: Has made several appearances in the Force India motorhome this season
Formula 1 Betting

Formula 1 Betting

Bet with Sky Bet
Force India owner Vijay Mallya has left the door open for Adrian Sutil to return to his team's line-up for 2013 should Nico Hulkenberg leave for Sauber.
Despite finishing in his highest-ever championship position last year Sutil was replaced by German countryman Hulkenberg alongside Paul di Resta at the Silverstone-based team for this season and then found himself without a seat in Formula 1 entirely.
But with the 29-year-old known to be keen to revive his career next season, Mallya has confirmed he would consider rehiring Sutil should recent speculation that Hulkenberg has signed for Sauber prove correct.
"Yes absolutely, why not?" he replied when asked by Reuters whether he could replace Hulkenberg with a driver of similar calibre. "Never forget I always have the potential of considering Sutil again. Sutil is always quick. So there are many options.
"I would certainly consider him."
However, while confirming he has offered contract extensions to both Hulkenberg and di Resta, Mallya says he has only heard through the media that the former may be joining Sauber, rather than from the driver himself.
"I have not been officially notified by Nico of anything," the Indian added.
"He hasn't sat down with me and told me that. I would expect that he would if he was on his way...I have an excellent relationship with him, he's a wonderful guy. He's done well for us."
Indeed, Mallya insisted that like his relationship with Sutil, he would feel no acrimony towards Hulkenberg should the German decide to seek pastures new.
"Even though I didn't re-sign him [Sutil] for 2012, he's still welcome," he said.
"That's the kind of culture I'd like to have in this team. Very friendly, very informal. So Nico will always be part of us. I won't stand in his way."