Williams have confirmed that Mercedes will supply their engines from 2014 onwards
Team will build their own transmissions, however
By Mike Wise. Last Updated: 31/05/13 1:53pm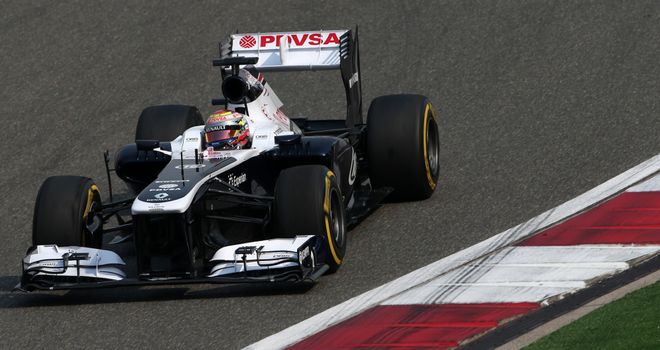 Williams: Will switch to Mercedes power in 2014
Williams have confirmed their deal with Mercedes-Benz that will see the German manufacturer supply engines from the 2014 season onwards.
The much-anticipated 'long-term' partnership coincides with next season's rule changes that will see the introduction of 1.6-litre V6 turbocharged engines and a greater reliance on energy recovery systems.
On Sky Sports
January 1, 1970 1:00am
Mercedes will supply both to Williams. However, the team will continue to build their own transmission systems.
"I'm delighted to announce our new association with Mercedes-Benz for the 2014 Formula One season and beyond," Team Principal Sir Frank Williams said.
"Mercedes-Benz has been one of the sport's most successful engine suppliers and we believe that they will have an extremely competitive engine package."
The announcement signals the end of Williams' two-year deal with Renault. The partnership, which yielded five world constructors' titles in the 1990s, brought the team their first victory in eight seasons at last year's Spanish GP.
"I would also like to take this opportunity to thank Renault for their continued hard work since we renewed our engine partnership at the beginning of the 2012 season," Williams added.
"We have enjoyed a strong relationship that has resulted in much success over the years, including powering us to winning ways once again last year at the Spanish Grand Prix."
Deputy Team Principal Claire Williams said: "The announcement of this partnership is exciting news for Williams. Securing the right engine supply partnership is a key milestone in the implementation of our strategy for long term success."
The backdrop for the rule change is an attempt to improve the efficiency of F1 cars. They will have to complete races with a fuel load of just 100kg - the current figure is around 150kg - with additional power coming from an Energy Recovery System (ERS).
The ERS is expected to provide ten times more power than the KERS systems F1 cars currently use. Besides KERS, the new system will also recovery energy via the exhaust turbine.
Andy Cowell, Managing Director of Mercedes AMG HPP, said: "Williams is one of the sport's iconic names and we are very excited to be working together towards a successful future under the new regulations.
"A further positive is that this new agreement provides Mercedes-Benz with the long-term stability of supplying our works team and at least two partners from the 2015 season onwards, following the conclusion of our relationship with McLaren at the end of next season."
With Force India also running Mercedes power in 2014, the deal means that they will supply four teams in all, although McLaren switch to Honda the following year.
Mercedes' Executive Director Toto Wolff, who held a similar position at Williams until the start of this year, added: "It is a win-win situation for both HPP and Williams, which will ensure HPP is able to supply at least three teams on a long-term basis under the new regulations and could open interesting new perspectives for technology transfer.
"We look forward to enjoying much success together over the coming years."
For their part, Renault Sport F1 President Jean-Michel Jalinier said: "We would like to thank Williams for the warmth it has extended to Renault over the last two years and wish the team the very best for the future.
"We will continue to actively work with the team until the Brazilian Grand Prix in November to end the second incarnation of the partnership with results that do justice to its reputation."
Renault has 2014 deals confirmed with Red Bull and Toro Rosso, although Caterham and Lotus are both expected to renew their agreements soon.
In a statement released on Thursday, the French manufacturer said that it 'would supply up to five teams if there was a requirement to do so, but this would not make sense economically or be ideal for our resources.
'Three, or up to four, teams is the ideal for us so the departure of Williams normalizes the situation and makes things much clearer from our side.
'We will announce the next team within a matter of days, and then confirm the final stage before the end of June. We remain incredibly motivated about the challenge of the 2014 engines.'