Q&A - Christian Horner discusses the Hungarian GP and a potential move for Fernando Alonso
The full transcript of the Red Bull boss's post-race press conference
By William Esler and Mike Wise
Last Updated: 30/07/13 10:22am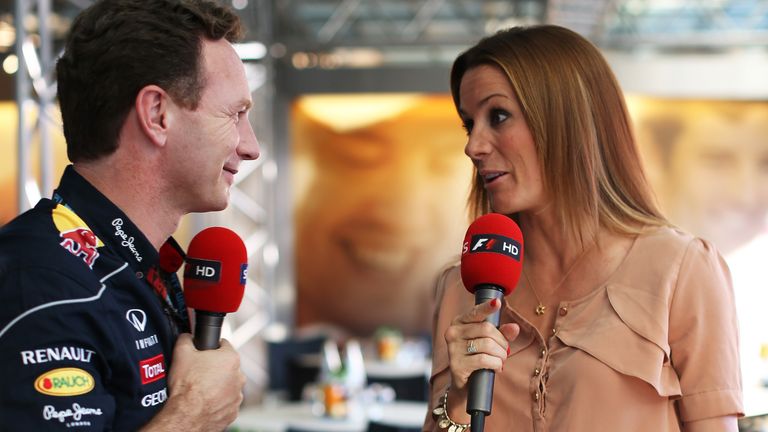 How was the race for you?
Christian Horner: "It was a great race - it was a tough race in all honesty because of the damage that Sebastian [Vettel] suffered getting past Jenson [Button] and that compromised his race quite badly, so to salvage a podium out of it was still a very, very strong result.
"Mark's [Webber] recovery was excellent - he had a good start, a good first stint and that really got him back into the race by effectively running the strategy in reverse with the soft tyre at the end.
"So to come away with 27 points and extend or position in both Championships heading into the summer break is a good result given the problems we have had."
Were you surprised to see Mercedes be as strong?
CH: "I think Lewis [Hamilton] has always been strong around here - if I am not mistaken that is his fourth victory here which is a tremendous achievement. I think the damage for us was done in qualifying.
"I think we could have given Lewis a harder time if we had cleared Jenson quickly - we didn't and he thoroughly deserved the win and he was able to control the pace.
"Once we were stuck behind Jenson, it freed them up and that took the pressure off them which is a bit of a shame. Nonetheless I am still very pleased that we managed to get plenty of points out of today."
Seb said that on his in-laps he lost more time than was estimated because the tyres were gone - were you surprised that you didn't manage them as well as the Mercedes?
CH: "I think when you run in the dirty air it works the tyres a lot harder and the benefit of running in clean air should not be underestimated. I think that combined with some front-wing damage hurt the balance of Sebastian's car and it was frustrating as I thought we could really take the fight to Mercedes.
"But after that first stop, being tucked up behind Jenson and then sustaining some damage, effectively released Lewis and put us back into the realms of the two-stopping Kimi [Raikkonen].
"But as I say, even with the damage Sebastian still managed to have good pace and we could see with the pace that Mark had in clean air that the car was strong. I think that unfortunately what happened after the stop compromised the race."
Can you see much loss in lap time because of the damaged front wing?
CH: "It is difficult to say in all honesty until after we look at the analysis afterwards, but I would have thought it was anywhere up to half a second."
Sebastian was complaining on the radio that Kimi didn't leave him enough space - what did you think?
CH: "I think it was ok - he left him just enough space. Obviously in the heat of the battle it looked like he squeezed him from one angle, but in the end it was just about fair. They were fighting hard and Sebastian would have done the same and I think he recognised that after the race. I think it was just a reaction at that moment in time."
When did you notice Kimi was going to two-stop to try and get ahead of Sebastian?
CH: "It became pretty obvious reasonably early into the second stint that it was something Kimi was looking at and we tried to cover it, but unfortunately we weren't able to make up enough time on him before the last stop.
"So we emerged from the pit-stop with tyres that were 13 laps fresher than Kimi's, but their degradation combined with the bit of damage Sebastian had which seemed to be accentuated when he got close to the car ahead. In those final laps he got close on occasion but unfortunately we didn't quite have enough to get past him."
What happened to Mark Webber's pace in the final stint?
CH: "I think he had a bit of traffic in the middle of that stint but those tyres were always going to be on the edge when doing ten or 11 laps which was the final stint length we came up with.
"He was effectively in no man's land - he was comfortably clear of [Fernando] Alonso and ten seconds behind Sebastian and Kimi - so he just focussed on getting the car to the finish."
The move that Lewis pulled on Mark coming down on the marbles on the track - were you surprised to see him pull that off?
CH: "It was a strong move by Lewis and obviously Mark was fighting as well at the time, but Lewis had the advantage of new tyres and more grip at the time and just caught him by surprise."
Was this race a measure of how good Lewis is?
CH: "I think Lewis has obviously won because he had the best car - it is as simple as that. Based on all of Sebastian's wins are because he is in the best car it is only fair that Lewis won in the best car today!
"No, I think Lewis did a great job, drove very well, everything fell perfectly for them. He made two decisive moves - one on Jenson and one on Mark at crucial points of the race - and I think after Sebastian suffered his front wing damage he was able to control the race quite comfortably and I don't think he was under a great degree of threat.
"But Mercedes have a very strong car - they have taken pole position at six or seven races and have won three races now."
Is this championship really on now?
CH: "I don't think it has ever been off! Mercedes since the second race have been very quick and that is still the case here. At different races we have seen different drivers emerge at the front of the field - whether that is Kimi in Germany or Lewis here or Nico [Rosberg] at Silverstone.
"I think we are set for a really intense second half of the year. But we just have to maintain our consistency no matter who the opponent is."
Fernando Alonso has been linked with the vacant Red Bull seat this weekend.
CH: "I think we are in a fortunate position where there is a bit of interest in the seat of next year - we ran Danny [Ricciardo] at the Young Driver Test - so we will take a bit of time over it and reflect on the options open to us and look to make the right decision and put the right driver alongside Sebastian next year."
But have you spoken with Alonso?
CH: "Any conversations with any driver remain confidential but of course, there has been quite a few drivers who have expressed an interest in the seat as you can imagine."
Is Alonso available?
CH: "Is Alonso available? You ask him. We are going to take a bit of time to make the right decision. We have some great options and we don't need to be in a rush.
How impressive was Daniel Ricciardo's test? Was it better than the headline lap time would suggest?
CH: "I think Daniel is considerably quick and he has done a very good job with what he has had at his disposal which is why we were keen to have a look at him at Silverstone and he acquitted himself very well there and he couldn't have done any more to be honest."
Could a driver like Kimi Raikkonen work alongside Sebastian Vettel?
CH: "I think the situation that we are in is that we want the strongest team - we have won the World Championship for the last three years and we need to ensure we are in a position to fight for the World Championship in the future.
"There has not been any pressure that we must take a junior driver, it is a matter of fielding the best team. Of course, the junior drivers are under consideration but there is no pre-requisite it has to be a junior driver for next season. We want to put the strongest drivers in the car that we can."
How do you feel the dynamic of Vettel and Alonso would work together?
CH: "It would be interesting. At the end of the day we have to do what is right for the team and the pairing that we want to put together next year has to be right for the team.
"Last week there was speculation about Kimi and this week there is speculation about Fernando, but we have to make sure nothing wavers in our minds about putting together the right team package together for next year with the fastest drivers we can find who will work collectively well together and achieve the best results for the team."