Mark Webber says Red Bull don't know how competitive they might be in the Malaysian GP
"We could be very strong, we just aren't sure," says Aussie
By Mike Wise at Sepang. Last Updated: 23/03/13 1:50pm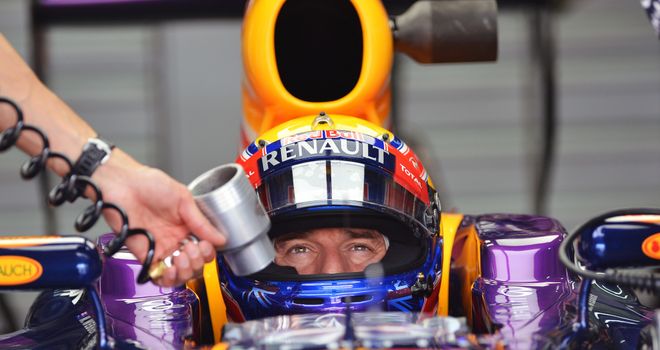 Mark Webber: Red Bull will have to think on their feet
Mark Webber says Red Bull don't know just how competitive they might be in Sunday's Malaysian Grand Prix.
The Australian lines up fifth on the grid for the race after a qualifying session which saw his team-mate Sebastian Vettel claim his second pole position of the season.
F1 on Sky Sports in 2013
Sky Sports F1 is the only place to watch every grand prix live in 2013.
Our dedicated F1 channel will broadcast every race, qualifying and practice session live, along with highlights shows, analysis and even more coverage via the Red Button.
Find out more at sky.com
Vettel was odds-on favourite to win last weekend's Australian Grand Prix after taking pole but instead faded to third place after struggling with tyre degradation during the race.
With the race at Sepang the hottest of the year, managing Pirelli's tyres is sure to prove critical this weekend as well.
According to Webber, though, an impressive qualifying performance does not necessarily guarantee more to the same the following day.
Asked to gauge how Red Bull's RB9 might handle its tyres during the 56-lap race, Webber said the situation was "ongoing, not just for this event but for future events".
"We know qualifying is an important part of the weekend but it's not the most important part these days," he explained
"It's tyre conservation racing at the moment. It's the same for everybody; we have to work out how fast we can go, get the right strategy as a team and put all those things together.
"We're gathering as much information as we can before the race tomorrow. We're happy about that; what we don't know whether it's going to be enough. We could be very strong....we just aren't sure.
"Any long run around this place is going to be difficult on tyres."
The heat might be a constant but not so the precipitation: Webber was speaking after a qualifying session which featured a heavy rain shower during session two.
As a result, Q3 took place on a rapidly drying - steaming even - track, something which Webber said would pose another headache if more rain fell during the race.
"Even the inters are getting a hard time when the track is ramping in and out of dry sections. You can have a part of the track that can't take the slicks and the crossover is not quite ready," he said.
"We have to think on the fly tomorrow, think on our feet, think how the race is going to unfold.
"I'll try and buy some more tyres on my way to the track tomorrow morning."
When it comes to making the right call, Webber speaks already from rueful experience. Come crunchtime he, unlike Vettel, elected to stay out on the same intermediates rather than pit for a fresh set.
He then tried, and failed, to make the chequered flag to start another flying lap on a track that was rapidly drying.
Even if he had made it, though, Webber guessed that he wouldn't have bested his team-mate.
"To get the absolute maximum lap time another set of inters was probably the right thing to do, but it wasn't completely clear," he added.
"I was saving my inters for that last run at the end but basically the information I had for when the session was going to finish was a little bit different to what I thought, so in the end I got the flag and I wasn't expecting the flag. It was a double whammy because the track was obviously ramping in a lot.
"We certainly could have laid down a stronger time but whether it was enough; if you look at the scrubbed prime against the new prime, toe-to-toe in the same conditions, I was probably going to struggle against Seb."