Mark Webber won't move over for Sebastian Vettel from the lead of the Indian GP
Aussie says he'll "got for it" in India - even though team-mate Vettel has better chance of taking title
By Mike Wise in New Delhi
Last Updated: 26/10/12 5:01am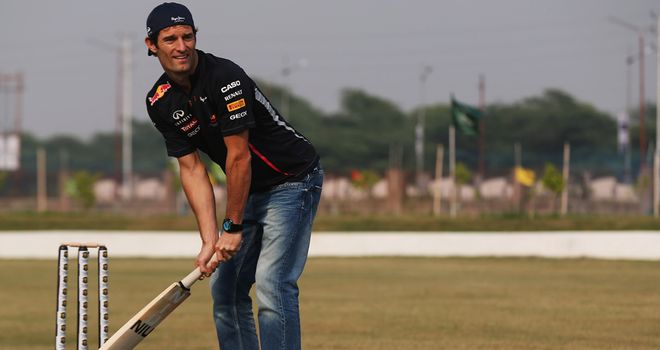 Although Vettel has taken a six-point lead over Fernando Alonso in the Drivers' Championship after his third straight win in Korea, the title prospects of his Red Bull team-mate now appear slim at best.
Webber is 63 points adrift with four races and 100 points still up for grabs. However, the Australian flatly rejected the suggestion that he would make way for Vettel were he to lead Sunday's race.
"No. This weekend, if I have a chance to win the grand prix, I'll go for it," a combative Webber said at the Buddh International Circuit on Thursday. "Mathematically I have a chance.
"If I'm in the lead this weekend then I'm not pulling over for anyone. That's it."
Webber, who lies fifth in the standings, admitted that he has little other option given the consistency of drivers ahead of him such as Vettel, Ferrari's Alonso and third-placed Kimi Raikkonen of Lotus.
"I think winning some races has certainly got to be useful. But if those guys are finishing as they normally do then it's going to be very difficult to get that amount of points back. Given how the points are spread now, most people are getting reasonable points unless you stop racing," he said.
Assessing the task ahead, Webber added: "Very difficult but never say never."
Red Bull's ascendancy has come on the back of recent upgrades such as the team's own version of the double DRS pioneered by Mercedes.
Webber admitted that, in such a competitive season, Red Bull's clear step forward has come as a surprise but warned against complacency.
"It's just such a fine margin, the way these cars operate in such a small window. There's just not one thing you bolt on the car and go, 'Oh that's it'," he said.
"That was what we had already three or four races ago. It's not old but it can be superceded pretty quickly. That's the business that we're in. It's a constantly evolving car.
"We have done well to recover the extremely high standard of our previous two years, given that in the first part of the Championship Seb and I had something like four or five podiums in 18 attempts.
"So we're getting better but we're not getting ahead of ourselves."
Webber is confident Red Bull can produce more of the same in India, where Vettel won comfortably in the inaugural race 12 months ago.
"It should be pretty good again. How much company we'll have, how tight it will be...it's going to be the normal guys, obviously, Ferrari and McLaren," he added.
"They're always there or thereabouts, particularly the Ferrari on Sunday (but) the Ferrari less so on Saturday. McLaren are strong on Saturday but then at Suzuka they weren't super-strong in the race.
"So I think we should be okay. We're not coming here thinking, 'Well, it's like Monza'. We should be pretty good."