Vettel: McLaren were too strong
German admits to error on final Q3 lap, but says no reason to panic
Last Updated: 17/03/12 8:49am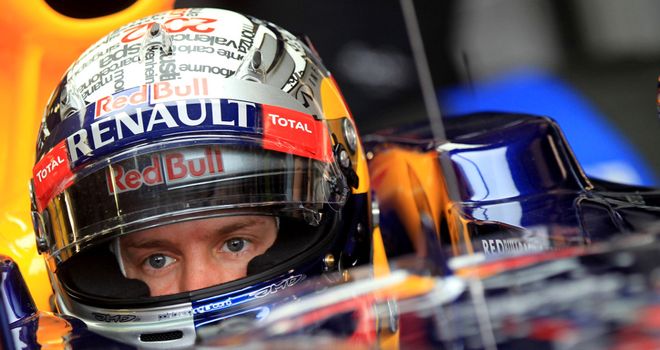 Vettel: Had his first difficult qualifying session for some time
Sebastian Vettel insists Red Bull have no reason to panic over the competitiveness of their RB8 after the World Champions were relegated to the third row in Melbourne.
Sky+ and F1: Important Information
If you plan to Sky+ any of the live F1 programming from Australia, to save you searching for all the individual programmes in your Sky Guide we have series linked every live session - from the Practices on Friday to the Qualifying session on Saturday right through to the live race on Sunday morning.
Please note, if you intend to set your recordings individually, several of the programmes cross the 6am boundary where one broadcast day turns into another, therefore these will appear as two back-to-back programmes on your Sky Guide so you need to ensure you record both. The specific slots affected are:
Practice 2 on Friday morning (shown as 5.15am & 6am)
Qualifying on Saturday morning (shown as 5am & 6am)
The Race on Sunday morning (shown as 4.30am & 6am)
The accepted wisdom throughout pre-season testing was that the back-to-back champions remained the team to beat heading into 2012 but, in an absorbing first qualifying session of the season, McLaren led the way while Red Bull - the dominant qualifying force of the past two seasons - also slipped behind Lotus and Mercedes.
Vettel, who unusually crashed in final practice and then made several small errors at the start of qualifying, admitted to a further mistake on his final Q3 lap after he qualified behind team-mate Mark Webber in sixth - although he conceded McLaren were "out of reach" anyway.
Vettel only once qualified off the front row in 2011 and when it was put to him by Sky Sports F1's Natalie Pinkham that the third row was an unusual place for him to start a race, he replied: "Well, I wouldn't say that.
"Obviously qualifying was more or less as we expected - the cars being close to each other - and I think Q1 to Q2 and Q3 the order always changed slightly.
"I wasn't happy with my final attempt - I did a mistake in the beginning of the lap, so I should have been higher up. But I think McLaren was out of reach today. So congratulations, they were really quick, and now we will see what we can do tomorrow."
The 24-year-old, who last started on the third row at Monza in 2010, admitted he should have got more out of the car but insisted Red Bull didn't need to panic over the situation so early in the season.
"As I said, I did a mistake. I should have been a bit quicker," he added.
"Regarding the car, I think we are not miles away so it is not a disaster. Obviously we'd love to be a bit quicker and fight for pole position, but today we were not good enough.
"But that's no reason to panic - the race is tomorrow and we have not even had one race yet."