Red Bull insist exhaust is legal
Christian Horner adamant design meets FIA regulations
By William Esler. Last Updated: 08/03/12 1:26pm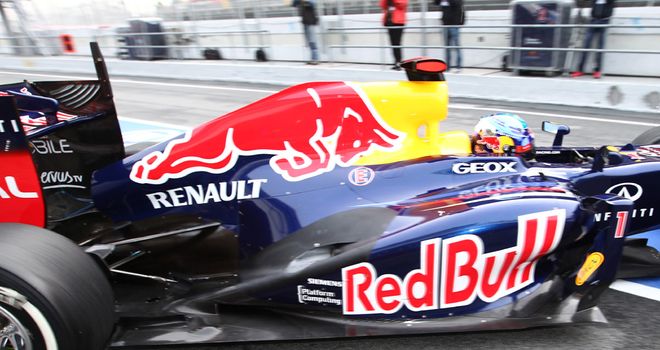 Red Bull debuted new exhaust design at final pre-season test
Formula 1 Betting

Formula 1 Betting

Bet with Sky Bet
Red Bull are adamant that their new exhaust design, unveiled at the final pre-season test in Barcelona, is legal despite other teams questioning their positioning.
The exhaust regulations were dramatically changed for the 2012 season in an effort to minimise the impact of the exhaust blown diffusor which dominated performance last year.
The new Red Bull design aims to claw back some of that lost performance by using the exhaust gases to energise the "Coke-bottle" area of the car.
SKY SPORTS F1 HD
Watch all this season's races
No ad breaks - uninterrupted live race and qualifying coverage
Enjoy F1 on the move with Sky Go
Expert commentators and pundits - including Martin Brundle, David Croft and Ted Kravitz
In-depth programmes and analysis
"We are happy that we comply with the regulations," Team Principal Christian Horner told Autosport.
"Ultimately it is a matter for the scrutineers and the FIA, as they have more knowledge and sight. Teams only ever get to see photographs; the FIA gets to see the cars close up in reality."
Ferrari's new Technical Chief Pat Fry believes that if Red Bull's design is approved by Race Director Charlie Whiting, then that will be the design every team uses.
"It comes down to what re-ingested exhaust gas is really and that's a question for Charlie," Fry added.
"I think it's the obvious direction to go in.
"We gave it a shot; we didn't quite get it right. The issues we had, we weren't going to solve for at least the first four races, so that's why we had to back up and change course.
"Ultimately I think it is the way to get the most downforce out of the current rules, obviously depending on Charlie's interpretation, so we are continuing to look in that area, as I'm sure is the whole pit lane."