Ferrari to run 2014 parts during Friday practices as attention turns to next year
Team admit wind tunnel problems played a role in slump in form
Last Updated: 02/10/13 10:21am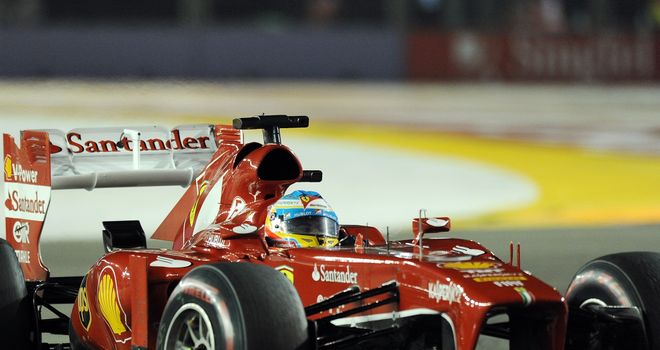 Alonso and the F138 in action at the Singapore GP
Formula 1 Betting

Formula 1 Betting

Bet with Sky Bet
Ferrari have revealed they plan to run 2014 development parts during the remaining six Friday practice sessions this season.
While the Scuderia have vowed not to give up on the current campaign until Red Bull are out of reach in both championships, attention has understandably started to turn to next year when the sport's regulations will be revamped by a 'rules revolution'.
"We've still got some developments coming through for the next few races and we will be running and testing them to continue to try and improve the car," Engineering Director Pat Fry told the team's official website.
"For 2014, because of the much larger changes to the cars on the engine side and also the aero aspect, it's naturally much harder to test components now, but there will be some small development bits we can run during this year's remaining free practice, looking more on the reliability front than anything else, which means we have busy Fridays planned for the next six races."
While Fry describes the upcoming aerodynamic changes as "quite significant", he doesn't believe that the change will be quite as profound aesthetically.
"Aerodynamically the visual changes will be relatively small, with the front wing getting narrower and the lower rear wing disappearing," Fry confirmed. "I guess the body shapes will change slightly because of the exhaust positions moving and that has a significant impact on the aero performance side of the car. So in performance terms it's quite a dramatic change, but visually, the cars will look quite similar to the current ones."
Meanwhile, Chief Designer Nikolas Tombazis has admitted that, even though the introduction of a new range of Pirelli tyres in July did not favour Ferrari, the team took a wrong turn this year with the upgrades bolted on to the F138 due to flaws with the operation of their Maranello wind tunnel.
"It would be somewhat superficial to blame the tyres as the only reason for our decrease in performance. We also took some development steps that were not as strong and didn't work.
"Wind tunnel technology has been a weak point for us, compared to our competitors. We had some problems with our flow quality so it was not as uniform as it should be and we could not run as big a model as we would have liked. Our data and instrumentation was quite outdated so we couldn't do that many runs and experiments per day, which was a bit of a drawback. The past months we spent updating it have addressed all these problems. Therefore I am optimistic that, on this front, when we are fully up and running we will not be in deficit to our competitors," he added.