Ferrari President Luca di Montezemolo has 'tweaked the ear' of Fernando Alonso
Double World Champion receives ticking off after making critical comments
By Mike Wise
Last Updated: 01/08/13 3:40pm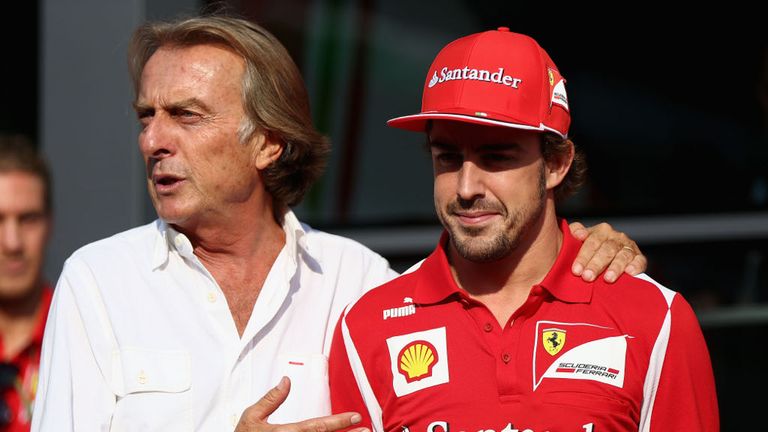 According to the Scuderia's website, the marque's President phoned Alonso, who turned 32 on Monday, to wish him a happy birthday.
Yet Montezemolo then went on to rebuke their star driver regarding the unspecified comments, which came on a weekend that not only saw Alonso and Ferrari lose further ground to Sebastian Vettel and Red Bull in the title race but also brought rumours linking the Spaniard with a move to the World Champions.
That Ferrari chose to make Montezemolo's ticking off public is intriguing given the speculation. In the statement, they said, 'there is a need to close ranks, without giving in to rash outbursts that, while understandable in the immediate aftermath of a bad result, are no use to anyone.
'That was a reference to the latest comments from Fernando Alonso, which did not go down well with Montezemolo, nor with anyone in the team. So, when Montezemolo called the Spaniard this morning to wish him a happy birthday, he also tweaked his ear, reminding him that, "all the great champions who have driven for Ferrari have always been asked to put the interests of the team above their own. This is the moment to stay calm, avoid polemics and show humility and determination in making one's own contribution, standing alongside the team and its people both at the track and outside it."'
Speaking after the race at the Hungaroring, where he finished an anonymous fifth, Alonso responded directly to the Red Bull rumour and insisted he was "very happy" at Ferrari.
"Obviously we need to improve the car if we're to have chances to win the World Championship," he said before highlighting F1's summer break as a potential 'silly season' of rumour-mongering.
"August, with four weeks with no Formula 1, is a very dangerous period for you guys. Hopefully we'll have a quiet summer," Alonso added.
The statement also said that Montezemolo had attended a meeting with Ferrari Team Principal Stefano Domenicali and engineers at their Maranello headquarters on Monday.
Montezemolo opened the meeting by saying that, "The Ferrari I saw in yesterday's race doesn't sit well with me".
After poor qualifying performances at both the British and German GPs, Alonso was happy to line up fifth on the grid in Hungary. However, he subsequently struggled for race pace.
Team-mate Felipe Massa finished eighth, with Domenicali saying Ferrari needed to investigate whether the new tyres Pirelli introduced at the race might be a factor.
At the season's halfway stage, Ferrari lie third in the Constructors' Championship, 83 points behind Red Bull while Alonso has slipped to third in the drivers' standings, 39 points behind Vettel.