Fernando Alonso says he was to blame for his Sepang collision with Sebastian Vettel
Ferrari star retired soon after coming together with World Champion
By Mike Wise in Shanghai. Last Updated: 12/04/13 5:44am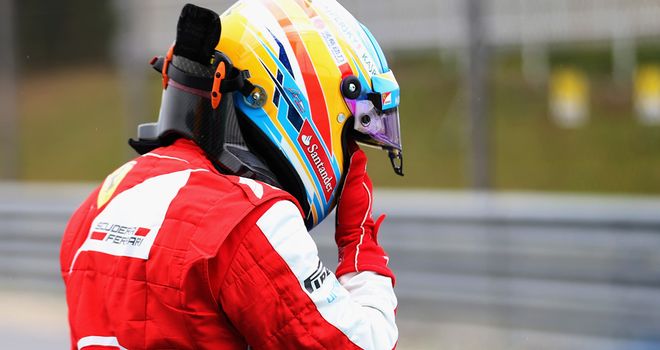 Fernando Alonso: Collided with Sebastian Vettel in Malaysia
Sebastian Vettel has already said he won't apologise for winning. Now it appears he has no reason to say sorry to Fernando Alonso either for their collision at the start of the Malaysian Grand Prix.
Whilst Vettel was busy defending - sort of - his actions towards the end of the race at Sepang in the Shanghai paddock on Thursday, his rival was nearby discussing their coming together at its very start.
Alonso retired with a front wing failure soon after his car hit the back of Vettel's as they snaked through the first two corners. It has been suggested that the World Champion, who was leading from pole position, had deliberately slowed down but the Ferrari driver said he in fact was to blame.
"It's impossible because there are 24 cars in the first two corners and you never know which lines the other people behind you are using," Alonso said, describing Vettel's perspective.
"Maybe someone is alongside you on the outside or whatever. You try to be as fast as you can but for sure I think the track conditions were a little bit better than probably the speed we were going.
"It was a mistake from me."
The Spaniard's race ended in the Turn 1 gravel at the start of lap two - Ferrari having lost their gamble to keep him out rather than pit immediately for a replacement wing.
With the track rapidly drying after a rain shower struck shortly before the race started, they had hoped to minimise the damage to Alonso's race by changing his car on to slick tyres at the same time.
He now stands 22 points adrift of Vettel in the Drivers' Championship standings but insisted they have no regrets.
"No, nothing. There are two or three DNFs for everybody in the Championship in the last ten years of Formula 1," Alonso said.
F1 on Sky Sports in 2013
Sky Sports F1 is the only place to watch every grand prix live in 2013.
Our dedicated F1 channel will broadcast every race, qualifying and practice session live, along with highlights shows, analysis and even more coverage via the Red Button.
Find out more at sky.com
"I hope not but it might happen to me again one or two more Sundays, so we need to be prepared for that. When it comes to the others, they take the opportunity and score maximum points.
"We regret to have the contact in the second corner. I think that, stopping or not stopping, the damage was already done - the real problem was the contact.
"We'll try to be more careful, take a little bit more margin, and hopefully it won't happen again."
A grinning Alonso also signalled agreement with the sentiments of former team boss and manager Flavio Briatore, who has said that Ferrari are the chief beneficiaries of Red Bull's internecine squabbling.
"What Flavio says is always truth," he added. "So, once more I agree. He's a very clever guy and I agree with everything he says."