Chassis boost for Massa
Decision taken to 'clear up any doubts' about Melbourne performance
Last Updated: 21/03/12 2:27pm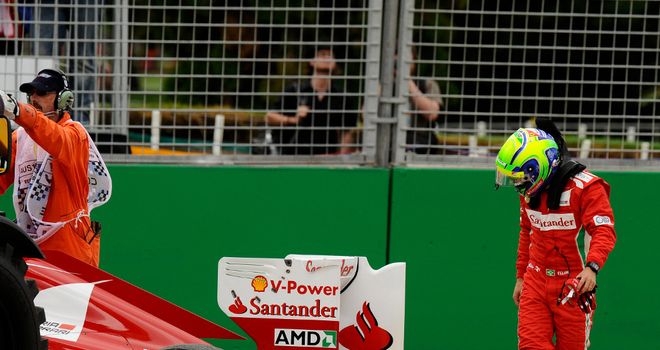 Felipe Massa: forced to retire in Melbourne
Formula 1 Betting

Formula 1 Betting

Bet with Sky Bet
After a disappointing start to the season in Australia, Felipe Massa will head to Malaysia this weekend with a new chassis.
The Brazilian struggled in a below-par F2012 in Melbourne, qualifying in 16th place before retiring from the race following a collision with Bruno Senna.
THE ONLY PLACE TO BE
Sky Sports F1 HD is THE only place to watch the 2012 Formula One season in full. We will have live and exclusive coverage of the Malaysian Grand Prix starting with P1 on Friday.
FRIDAY - P1 from 1.45am. P2 from 5.45am
SATURDAY - P3 from 4.45am. Q from 7am
SUNDAY - Race from 7.30am
To find out all the different ways to watch the action, click here
However, the team are confident that the 30-year-old will bounce back this weekend and will do so with a new chasiss.
"Felipe has certainly been the target of criticism after the race in Albert Park," said a statement on the Ferrari website.
"But the Brazilian driver is used to this situation and remembers well 2008 when after two races - Australia and Malaysia - he had a zero in the points column and many of the media were calling for him to be fired on the spot.
Exceptional
"Many of those commentators had to change their minds given that only a few exceptional circumstances - from the piston in Budapest to the pit stop in Singapore to cite the most striking examples - denied him the world championship.
"Felipe knows he can count on the team to do everything, both from the technical and the operational point of view, to put him in a better state to show off his talents - even at the cost of extra work in these few days that separate the Australian race from the one in Malaysia.
"For example work has already begun in the Sepang pits to prepare chassis number 294, which replaces the number 293 and will be used by the Brazilian in the second race of the season.
"This choice was taken to clear up any doubts about the unusual performance of his car during the weekend at Albert Park."