Jerez experiment for Ferrari
Chief designer Tombazis says testing lap times have no relevance
Last Updated: 08/02/12 10:40am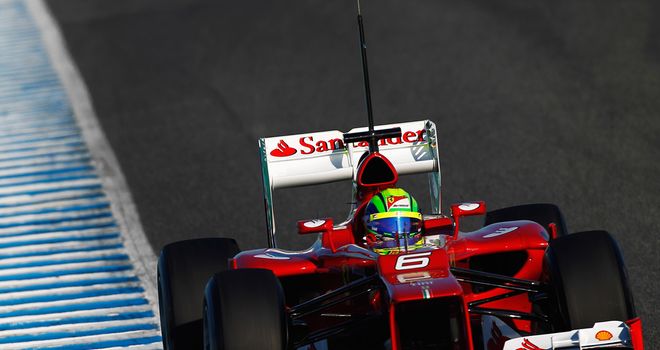 Felipe Massa: Spent first day at Jerez gathering data for 'aggressive' design
Formula 1 Betting

Formula 1 Betting

Bet with Sky Bet
Ferrari chief designer Nikolas Tombazis says Ferrari are taking an experimental approach to the pre-season test in Jerez due to their aggressive car design.
The Maranello-based squad have opted for a more radical approach with the F2012 as they attempted to bounce back from a disappointing campaign last season.
Felipe Massa put the car through its paces on the opening day of testing on Tuesday, ending the day over three seconds down on quickest man Kimi Raikkonen after completing 69 laps.
But Tombazis insists that nothing should be read into the relative pace of the Ferrari, saying that there is plenty more data gathering and fine-tuning to do before they show their true form.
"This car represents a clear break with the one that preceded it and it features concepts that are very different for us and that require much more fine tuning," he told the official Ferrari website.
"That's why today we absolutely did not have an eye on the stopwatch, preferring to concentrate on gathering as much data as possible in order to get as good an understanding as possible of the behaviour of the car.
"We have much to do, but all in all, there are reasons to be pleased with the three hundred kilometres that we put together with Felipe at the wheel.
"We had to experiment with different solutions and that will be the case for the next few days as well: it's obvious that some delivered what was expected while others did not, but that's the purpose of testing, getting to understand how a car behaves and how best to develop it."
He added: "It is obviously too early to say if this year we will be able to win or not, but no one will be able to accuse us of having been timid in the design of this car."