Ecclestone - Let teams decide
F1 supremo thinks driver orders should be a matter for teams alone
Last Updated: 26/07/10 10:27pm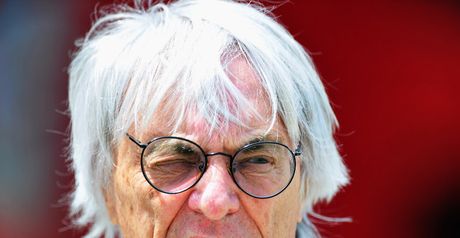 Ecclestone: A matter for teams
Formula 1 Betting

Formula 1 Betting

Bet with Sky Bet
Formula One supremo Bernie Ecclestone thinks the best way to avoid the furore which greeted Ferrari's one-two finish in the German Grand Prix is to let teams decide themselves whether or not to issue driver orders.
SKY SPORTS ON SKY
From football to fishing and everything in between, including cricket, rugby, golf and tennis - there's some amazing coverage coming up on the five Sky Sports channels. Plus, with the launch of
Sky Sports News HD
this summer, all five channels will soon be available in stunning high definition, only with Sky. Click
here
for more
Although Fernando Alonso took the chequered flag at Hockenheim, he did so after team-mate Felipe Massa, who had received a coded message from his engineer Rob Smedley while leading the race, let him through.
Ferrari were fined US$100,000 dollars following the incident and although the result was allowed to stand, they could be punished further at a meeting of the FIA's World Motor Sport Council in September.
The issue centres on article 39.1 of the FIA's sporting regulations, which states that team orders which interfere with a race result are prohibited.
It was introduced following the Ferrari-inspired debacle at the end of the 2002 Austrian Grand Prix, when Rubens Barrichello slowed within yards of the chequered flag to allow team-mate Michael Schumacher through to win.
In his role as F1's commercial rights controller, Ecclestone is a sitting member of the WMSC and so was unable to comment specifically on Sunday's incident. However, the 78-year-old does think the rule should be scrapped.
"I must confess I would agree with anyone who thinks that," said Ecclestone. "We make people call it a team, we say it's got be a team.
"All the cars have to be exactly the same, the drivers wear the same overalls, so everybody has to look like a team - a team of people that are racing.
"I believe what people do when they are inside the team, and how they run their team is up to them. That's my opinion."
When asked whether he thought the rule might be scrapped, Ecclestone replied: "I don't know, we'll have to see. It's something that needs to be discussed.
"As far as I'm concerned a team is a team, and they should run it whichever way they want to run it.
"Nobody should interfere as to how they run their team.
"But of course if they do something that's dangerous then obviously they're going to be in trouble, otherwise get on with it."
Hypocrisy
Meanwhile, Ferrari president Luca di Montezemolo believes those in the sport who have spoken out against the incident are guilty of "hypocrisy".
"The polemics are of no interest to me," the Ferrari website (www.ferrari.com) quoted di Montezemolo as saying on Monday.
"I simply reaffirm what I have always maintained, which is that our drivers are very well aware, and it is something they have to stick to, that if one races for Ferrari, then the interests of the team come before those of the individual.
"In any case, these things have happened since the days of (Tazio) Nuvolari and I experienced it myself when I was sporting director, in the days of Niki Lauda and not just then," added the Italian, who performed the role when Lauda raced for Ferrari in the 1970s.
"Therefore enough of this hypocrisy, even if I can well believe that some people might well have liked to see our two drivers eliminate one another, but that is definitely not the case for me or indeed for our fans."