Kimi desperate for change of luck
Raikkonen has failed to finish in 10 of his 15 F1 races in Germany
Last Updated: July 16, 2012 10:04am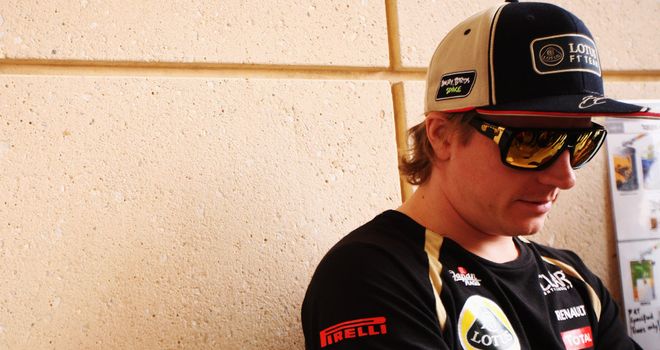 Kimi Raikkonen: Looking to change a miserable German GP record
Kimi Raikkonen is hoping his luck at German race circuits finally turns at Hockenheim this weekend and he can capitalise on Lotus's consistently strong speed with a return to the podium.
THE ONLY PLACE TO BE
Sky Sports F1 HD is THE only place to watch the 2012 Formula 1 season in full live. Our extensive coverage continues with the German Grand Prix exclusively live on 20-22nd July.
FRIDAY 20th - P1 from 8.45am. P2 from 12.45pm
SATURDAY 21st - P3 from 9.45am. Q from 12pm
SUNDAY 22nd - Race from 11.30am
To find out all the different ways to watch the action, click here
The former World Champion has raced at Hockenheim and the Nurburgring on 15 occasions since making his Formula 1 debut in 2001 yet, despite driving for both McLaren and Ferrari for eight seasons in total, his best finishes remain two third places amid a record which shows no fewer than 10 retirements, the majority of which have been car-related.
Raikkonen, whose title bids in both 2003 and 2005 were severely compromised by retirements while on course for near certain victories in Germany, admits he is not quite sure what he has done to endure such a sustained run of misfortune but hopes for a change in his 'second' F1 career.
"I don't know, maybe I did something bad in a former life?" he said.
"I've always enjoyed driving in Germany, but the problem is that luck has never been on my side there and something has always happened to stop me winning.
"I've had four pole positions which shows my speed on German soil, but six retirements haven't been what I wanted."
He added: "Obviously both circuits - Hockenheim and the Nürburgring - have not been very kind to me. I like them both and I have always been very competitive there. Maybe it will all come together this year."
Lotus's strongest performance of the season came in hot conditions in Bahrain, when Raikkonen and team-mate Romain Grosjean finished second and third respectively, and the Finnish driver acknowledges a sweltering Hockenheim weekend would play right into the team's hands.
"Some hot weather would be good," Raikkonen added.
"Usually in Hockenheim it has been very hot and everybody has had problems with the tyres going off. Obviously, for us, the hot weather suits the car fine. Our car prefers the hot temperatures and in the long runs it's not that hard on tyres.
"Let's have some real summer weather in Hockenheim."
And having proved the fastest two cars on the track at the end of the British GP, Raikkonen added: "We've got a good car, we understand the tyres quite well, we've shown that we can be fast and race well... there's no reason why we shouldn't be fighting for another podium."