World Championship contender Lewis Hamilton eyeing a strong end to 2013 season
Mercedes driver trained six days a week over the summer break
By James Galloway at Spa. Last Updated: 22/08/13 6:32pm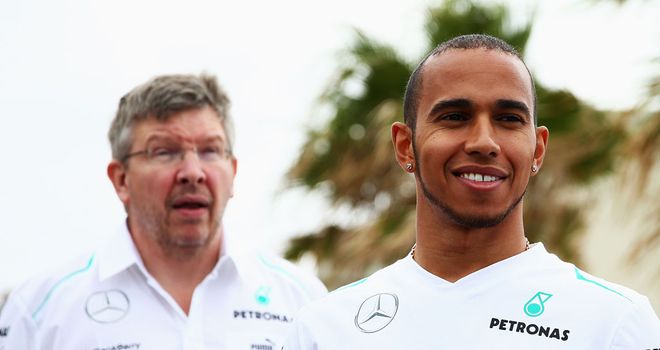 Lewis Hamilton: Ready for second half to season
Formula 1 Betting

Formula 1 Betting

Bet with Sky Bet
A refreshed Lewis Hamilton has declared he heads into the second half of the 2013 season "more motivated than ever" knowing that Mercedes now have a car capable of consistently challenging for wins.
The Briton ensured he went into the summer break on a high - and with his 2013 championship credentials enhanced - after a surprisingly commanding victory in searing heat at the Hungaroring, the kind of conditions that had long been Mercedes' Achilles heel.
And while the 2008 title winner remains the equivalent of two race victories - or 48 points - shy of overhauling Sebastian Vettel at the head of the drivers' standings, crucially Mercedes, with three wins in the last five races, appear to have the momentum to emerge as Red Bull's strongest challengers between now and Brazil.
That theory was put to a relaxed-looking Hamilton by reporters on Thursday, and while he attempted to play down suggestions that he was now Vettel's main rival, the former World Champion nonetheless admitted that he was personally feeling very good ahead of the resumption of the season.
The 28-year-old, who had conceded prior to the summer break that his world had been "turned upside down" by his split from girlfriend Nicole Scherzinger, revealed he had taken a more fitness-centred approach to the summer break on this occasion.
"It's the same old every year. You have one race win and then people get excited; you have a bad race and negative things are said," Hamilton pointed out.
"So for me I'm not focused on what is trying to be said. I'm here to just do my job and continue driving the way I have been.
"I've been training really hard over the break, which has been a lot different to what I had in the last six years. The last six years I've taken it as a real holiday and trained maybe twice a week, three times a week.
"So I've been training six days a week and really trying to get myself centred. I come here today just feeling more motivated than ever and it's a great feeling knowing that we have a car we can compete with."
Asked if his change of approach had been directly influenced by the feel-good-factor from his first win with Mercedes, Hamilton added: "It was nothing to do with Budapest, I just fancied doing something different. I just really wanted to get myself busy during this break.
"It was a different approach and really productive. I didn't do any partying or anything like that. I just feel really healthy right now and the batteries are full."
The fact that Hamilton's W04, already the season's dominant car on Saturdays, is expected to suit the high-speed nature of Spa this weekend, along with the following race at Monza, has led many pundits to suggest he is a now serious threat to Vettel despite the German's large points advantage.
Hamilton is hopeful a strong Belgian GP will give way to another strong end to the season for him.
"The car's obviously not got worse over this break and hopefully will be better this weekend, without doubt we know that Ferrari and others would have made a similar step to us, but it's a great feeling that we know we can come here and still fight those guys," he admitted.
"There's a long way to go and generally my second half of the season has been more positive - so hopefully that's the case this year."