Ross Brawn says improving Mercedes' race performances not yet where they need to be
Team boss nonetheless admits growing pains are now behind them
Last Updated: 30/04/13 6:05pm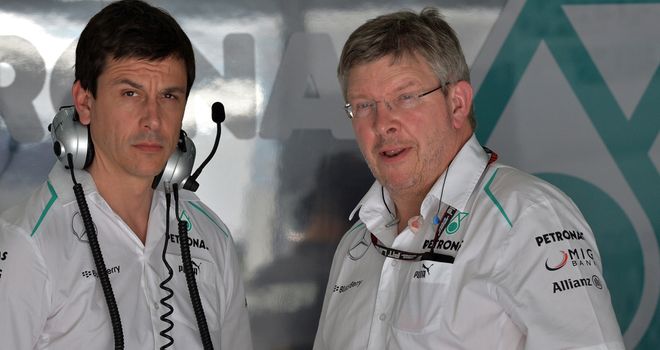 Ross Brawn: Starting to see forward progress at Mercedes
Formula 1 Betting

Formula 1 Betting

Bet with Sky Bet
Ross Brawn has stressed that Mercedes are 'not there yet' despite starting to see the first fruits of the restructuring process they went through last season.
After wretched end to 2012, the Brackley-based team were among the pacesetters in the opening four flyaway rounds with two podiums and two poles to show for their encouraging season so far.
But despite the evidence of the last two races suggesting the W04 may even be the outright fastest car over a single qualifying lap, Lewis Hamilton and Nico Rosberg's respective slides to third and ninth on the two Sundays underlined that Mercedes have yet to completely tune their car for the full race distance.
"It's not down to one lap. What we have to have is a car that is fastest over 50-odd laps, and that's the challenge," Brawn admitted.
"It's nice to have taken pole position at the last two races, but what really counts is the race itself, and I don't believe we're there yet.
"We've two drivers who have taken the equipment and done what they have on the last two Saturdays, but I don't think we have the equipment yet to be the strongest in the race.
"That's what we are working on."
Nonetheless the team's 64-point haul from the opening quartet of races is little under halfway towards the total they achieved during the whole 20-race calendar last year, and in stark contrast to the single points finish Rosberg and then team-mate Michael Schumacher claimed in the closing six rounds of 2012.
Brawn says the 'pain' the team took in restructuring their aerodynamic department mid-way through last year is now starting to pay dividends.
"From an engineering perspective, we know what we did 12 months ago is now coming through and giving us a reward," he explained.
"Changes were made back then which were painful at the time, and were part of the reason why we had a poor second half to last season. You have the pain for a while of those changes, which is what we had last year.
"We've now a very motivated group of people, and we're starting to put the things in place they need. When you do that the end result is you make progress.
"On the sporting side, we've two great drivers, and people I've worked with for a long time in the team. I know how they work, they know how I work.
"You can always look to add to it and tune it to improve, but you mustn't damage what you already have."