Vergne surprised by promotion
Toro Rosso driver admits phone-call came as a shock
By William Esler. Last Updated: 05/03/12 11:38am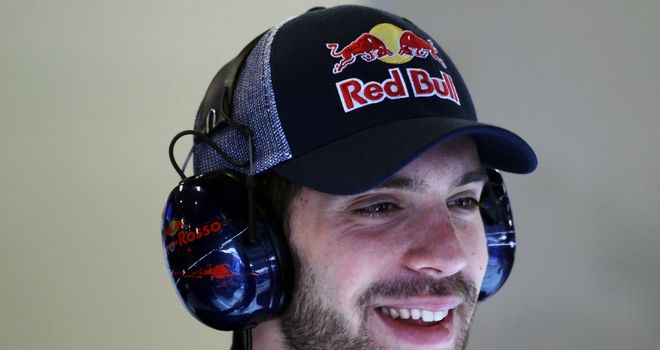 Jean-Eric Vergne: Will make his F1 debut in Australia
Formula 1 Betting

Formula 1 Betting

Bet with Sky Bet
Jean-Eric Vergne admits he was shocked when he was told he would be making the step up to Formula One with Toro Rosso.
The Red Bull backed driver will be the youngest driver on the grid this year, aged 21, after graduating from Formula Renualt 3.5 where he finished second in the championship.
He took part in the young driver test in Abu Dhabi last season for Red Bull and after setting the fastest lap time on all three days convinced them he was worthy of a surprise call up to the junior Toro Rosso team.
"Ha, shock-promotion is good way to put it. And of course it was the best day of my professional life so far. I remember every single detail of that day," Vergne told the official Formula One website.
"Helmut (Marko) called me on the morning of December 14. What a wake-up call!
"I knew that they were evaluating the data of the current drivers and, of course, you always hope that a situation might arise where suddenly you are in the picture. And voila, it happened - the best phone call I've ever received.
"I had that one day to really understand what had just happened because the next day I was already at the Red Bull Racing factory to work with the simulator."
Prepared
As a member of the Red Bull young driver programme the Frenchman says he has been prepared well for the graduation and it hasn't been as big a shock to the system as it has for some drivers.
"Believe me, I have been prepared quite well so far as a Red Bull youngster. I was connected to Formula One well before the past two weeks, so the level of surprise level has not been that high.
SKY SPORTS F1 HD
Watch all this season's races
No ad breaks - uninterrupted live race and qualifying coverage
Enjoy F1 on the move with Sky Go
Expert commentators and pundits - including Martin Brundle, David Croft and Ted Kravitz
In-depth programmes and analysis
"What is definitely a difference is that (in the past) I have been with a team with 40 people in total.
"Now around 60 people are working just for me on a race weekend, so that is indeed way above what I knew. But as the objective is to be fast, these are all fantastic aspects of Formula One."
Dreams
Whilst his long term goal is to graduate to the Red Bull team, Vergne is fully focused on making an impact this year with Toro Rosso.
"...that is dreams of the future," he added.
"Right now I want to do my job at Toro Rosso - learn as much as possible and show them that I was promoted for a reason.
"And I haven't done a race yet so it does not make much sense to think about 2013. First things first, and the first thing right now is doing a good test season and then taking that to the Melbourne grid. And then to take it race by race."