Russian Grand Prix still on despite fears over Ukraine political crisis
By Sky Sports Online. Last Updated: 13/05/14 5:20pm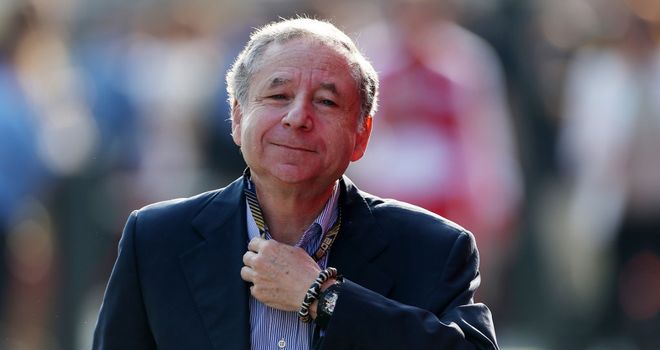 Jean Todt: Russian Grand prix is still on
Formula 1 Betting

Formula 1 Betting

Bet with Sky Bet
The inaugural Russian F1 Grand Prix is expected to go ahead as planned in October despite the ongoing political unrest in Ukraine, according to FIA president Jean Todt.
Concerns about the viability of the race intensified following the cancellation of the Russian round of the World Superbike Championship which was scheduled for Moscow Raceway on September 21.
Superbike race organisers said that decision was reached because "the current political situation affects the capabilities of a number of key partner companies essential to run the event."
But Todt insisted preparations for the race at a newly-constructed street circuit around the Sochi Olympic Park site remain firmly on track.
"At the moment there is no change to the calendar. Russia is on," Todt said.
"I am comfortable with what the FIM (world motorbike federation) has done, but at the moment we don't have any reason to reconsider any race we have on the calendar."
Asked whether the matter would be reviewed later this year, Todt replied: "We will speak to people who are involved with all of that.
"But as I say, at the moment we have nothing that should change the running of the calendar."
Aleksey Sheian, minister for strategic development and investments in the Krasnodar region, added that postponement of the race was "not even on the agenda, no way".
Race organisers plan to sell 55,000 tickets for the event, with overseas visitors expected to account for about 20 percent of the crowd.
Construction work continues at the facility in Sochi and a decision on how many temporary stands will be installed around the circuit is expected to be made in the next week.
"I have no doubts the race will go ahead," race promoter Sergey Vorobyev said.
"We have construction being done at a good pace, we have the operational and sporting preparations also being done very extensively. There is no doubt from any point of view that the race will happen.
"We have entered a very active phase in the construction," he added. "We are doing the final interior works on the team buildings, pit building and main grandstand.
"We are preparing for laying the final layer of asphalt which will be done quite soon. We are confident that in August we will have the circuit completed."
Former chief executive of the Abu Dhabi circuit Richard Cregan is now acting as a consultant to Sochi organisers and he explained he had no doubts about the track being completed on time.
"It's going very well at the moment," he said. "There's no question it will be tight but it will be ready, it will be complete.
"We had a good meeting with the FIA and (race director) Charlie (Whiting) for the inspections and all that so that's all going to be scheduled soon.
"Charlie's quite happy and obviously he'll come and inspect and then set up a second inspection date and go from there."