Ferrari revealed their latest F1 car, the F14 T, at their Maranello base on Saturday
Covers come off Scuderia's 2014 challenger; New car and 'nosey' look strikingly different to previously-released 2014 chargers
By Mike Wise. Last Updated: 25/01/14 5:54pm
Formula 1 Betting

Formula 1 Betting

Bet with Sky Bet
Ferrari launched their 2014 car, named the F14 T after a fan vote, at their Maranello base on Saturday.
Drivers Fernando Alonso and Kimi Raikkonen were on hand as the Scuderia's latest scarlet-coloured creation was revealed to the world - the F14 T being their first response to Formula 1's radical technical overhaul.
Over a million votes were cast in naming the car but Ferrari will be relying on more than fan power if they're to make a strong impression, particularly early on in the season.
They have been notoriously slow starters in recent years and although none of their rivals anticipates being quick out of the starting blocks given the array of challenges posed by the switch to 1.6-litre V6 turbo engines and more powerful energy recovery systems, Ferrari are bound to be conscious of their position.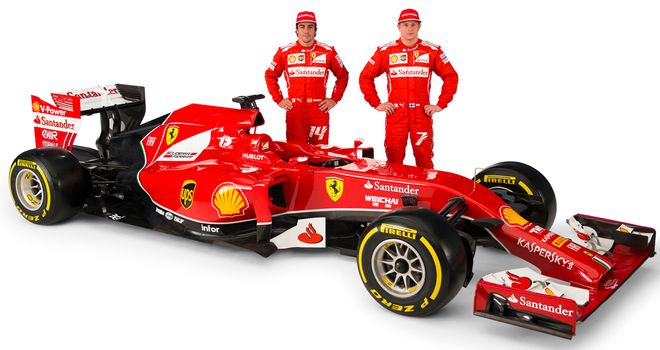 The F14 T will be piloted by Fernando Alonso and Kimi Raikkonen this year - Picture courtesy of Ferrari
On the plus side, there's the opinion that 'works' teams such as Ferrari and Mercedes will hold an advantage in the race to understand and develop their cars. However, there has also been a feeling in the paddock that the German manufacturer and Renault will deliver more competitive power units.
A particular Achilles heel in recent seasons has been Ferrari's chassis - as a consequence of their windtunnel, the predictions of which have failed to match up with track performance.
However, after a period spent using a facility owned by Toyota Motorsport while their own windtunnel was being recalibrated, it is now up and running again.
Furthermore, Ferrari last year secured the services of James Allison, who had overseen Lotus's strong performances during the past few seasons, who returned to Italy to take the role of Chassis Technical Director.
Ferrari President Luca di Montezemolo believes everything is now in place to return to World Championship winning ways - the Scuderia last won the Drivers' Championship in 2007, with Raikkonen, and the Constructors' in 2008 - and now it was time to deliver.
"I'm confident because we have a strong team and I think that we have all the ingredients to be successful," the Italian declared.
"Two very strong drivers; I'm pleased to have Kimi back because Kimi has been the last driver to win the championship with us, and Fernando has made fantastic seasons and achieved second place in [three of] the last four years.
"Now it's time to win. I have a lot of confidence in the new Technical Director James Allison and in the work that our people has made in the engine."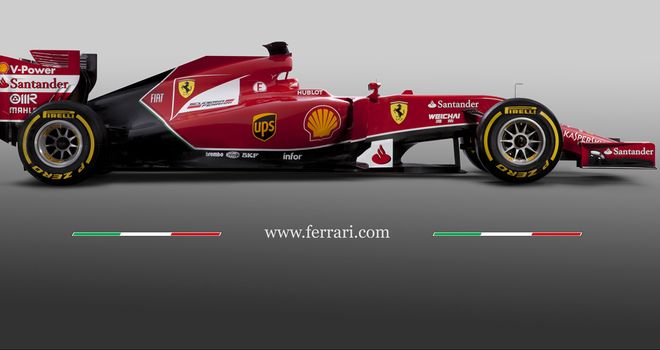 Revealed: Ferrari's F14T - Picture courtesy of Ferrari
Alonso admitted that even though the rules created a state of flux, Ferrari would need to be competitive from the first race of the season.
"We hope to have a good season and to have a good season means to start with a good car, from the beginning, and at the final race to arrive with the possibilities to fight for the World Championship," he said.
"It's what we would like to do but we need to see how things develop. If we like this year's car and this year's regulations, we need to wait and see until the first touch of the car and, probably even more, until the first races of the Championship.
"[Then] we can do an evaluation of the new rules and how the races are this year."
The new season also brings major aerodynamic changes, but although the different styles of noses teams are designing for their cars is prompting much debate, Raikkonen for one is looking at the bigger picture.
"It's interesting to see new cars always, when we see the first pictures. But in the last few years they've been changing quite a bit in that nose area because of the rules," said the Finn, who has rejoined the team from Lotus.
"I've only seen a few pictures from other teams and obviously our car and it looks slightly different. But I think it doesn't tell us much - we have to wait and see how the car works on the circuit when we run it and go from there.
"For us, the look is not exactly the main thing; it's that the car is fast or not."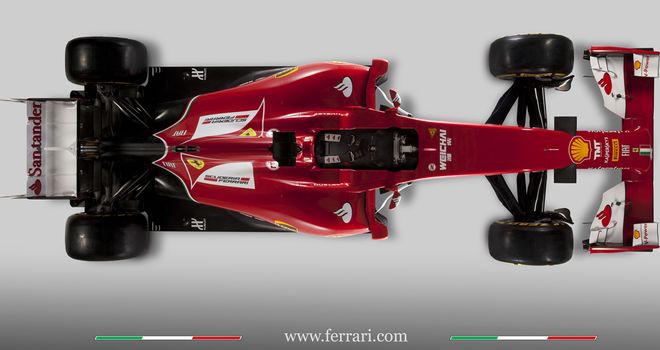 An aerial shot of the new F14 T - Picture courtesy of Ferrari
The Sky Sports F1 Online team will be providing live commentary of all three winter tests, starting in Jerez on Tuesday January 28, with live updates from trackside also on Sky Sports News.