Emotional Jenson Button pays tribute to his father following John's death
An emotional Jenson Button has paid a heartfelt tribute to his father, John, following his passing at the age of 70.
By Sky Sports Online
Last Updated: 16/01/14 10:05am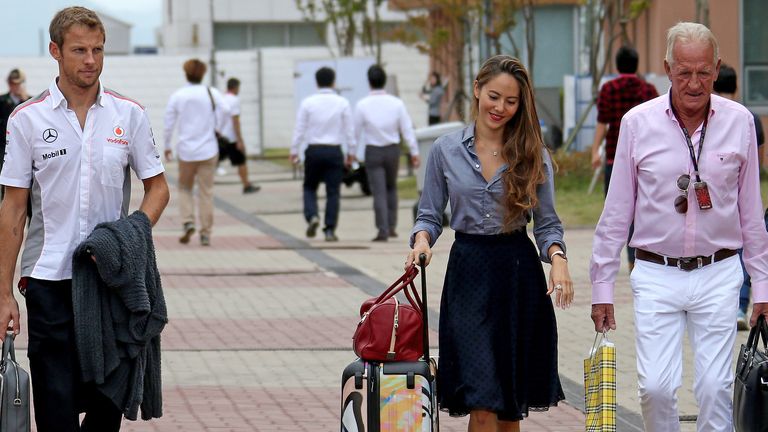 The news of John death's from a heart attack on Sunday prompted accolades from across the F1 spectrum, with the sport united in its grief and admiration for one of the paddock's most colourful figures.
"Thank you all for your lovely messages about my Dad, it's so nice to see he touched so many people," Button tweeted on Wednesday.
"He was such a big part of my life I'm going to miss him so so much...
"Papa you cannot believe how very proud I feel to be able to call you my Dad. I love you Papa Smurf, you'll forever be in my heart,
"Rest in Peace with the Angels Your son XXXX."
Button senior missed just one of his son's 247 GPs starts since Jenson debuted in the sport over a decade ago, but Sir Jackie Stewart is confident that the 2009 World Champion's form in the upcoming campaign will not be affected.
"His son will miss him terribly but I think a racing driver's mentality is a peculiar one, and I'm not sure it's the same as those years past," Sir Jackie told The Daily Telegraph.
"I think the human is an amazing animal...and I think racing drivers probably are tougher than most people.
"Look at all the death we had, and yet, for whatever reason, we all raced. Yes [it's a big change for Jenson], but racing drivers are a peculiar animal.
"It was very sad. I was in Switzerland at the time and Mark my son called. John lived the fullest of lives, and he had a heart attack, and he was 70 years of age. There wasn't much life that he'd missed."