Jenson Button says the Belgian GP represents McLaren's best chance yet of a podium
2009 World Champion also refuses to rule out victory this season
By Mike Wise in Budapest
Last Updated: 25/07/13 9:13pm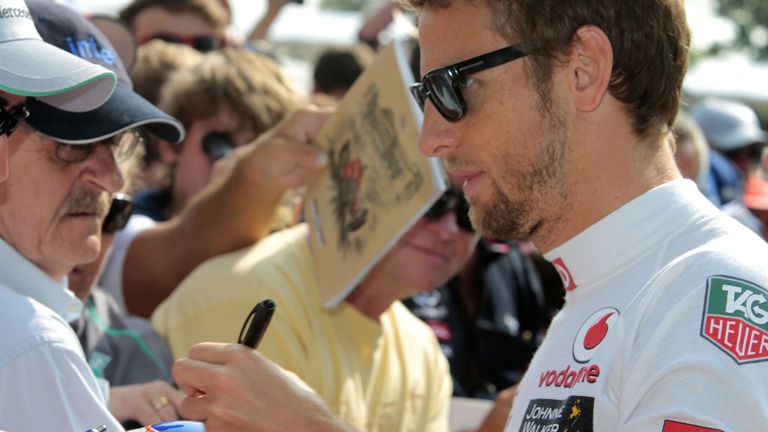 Speaking on Thursday ahead of this weekend's Hungarian GP, the 2009 World Champion also expressed the hope that he might yet win a race.
McLaren last went an entire season without scoring a victory in 2006 but the Briton said that the recent German Grand Prix, in which he finished sixth, represented genuine progress.
"We still want to win a race - and I think we still can win a race. It's not going to be a completely bad year," Button said.
"The last race was good step forward and the morale was high after that race, which is good to see. Obviously we're still not going to be happy with finishing sixth or fifth, we want to be fighting for wins.
"But for us to see a definite step forward in terms of performance was very positive.
"I don't know what we're going to do here in terms of where we're going to finish. I don't think anyone knows really with these high temperatures. But Spa is a race I'm really interested and excited about.
"Fighting for a podium...I think that has to be our aim - and I think we can."
Asked why he felt so optimistic, Button, who won last year's Belgian Grand Prix, replied: "We understand that circuit. We understand what we should bring for that kind of circuit in terms of aero and also I think we're chipping away with the car the whole time."
McLaren took a risk with the design of their MP4-28 in the hope that it would enable them to out-develop rivals.
Instead, its lack of performance has meant they've had to backpedal - which, as Button explained, has left the Woking team playing catch-up.
"We've completely changed the car aerodynamically. It's a completely different philosophy now, it's back to the idea that we had last year and the idea that most of the pitlane have," he said.
"It was bringing the airflow over the top of the sidepod to the rear end of the car, where you have the rear wing and the floor - where you really need the downforce.
"Now, if you look at the car, the sidepods cut in more trying to get the clean air to the rear of the car. It's working well but the development is behind the other teams.
"But I do feel we're catching up. We're finding things all the time."
McLaren might be out of the running for this year's World Championship but, according to Button, each new aero part they add has relevance for the 2014 season, even though the rules then will be different.
"They're very different, in that the downforce we'll have is a lot less than what we have now. But the ideas we have this year could still help us next year," he added.