Pirelli expected to revert to Kevlar-belt tyres for this weekend's German GP
Announcement expected later following tweak to Young Driver Test
By Pete Gill. Last Updated: 04/07/13 11:38pm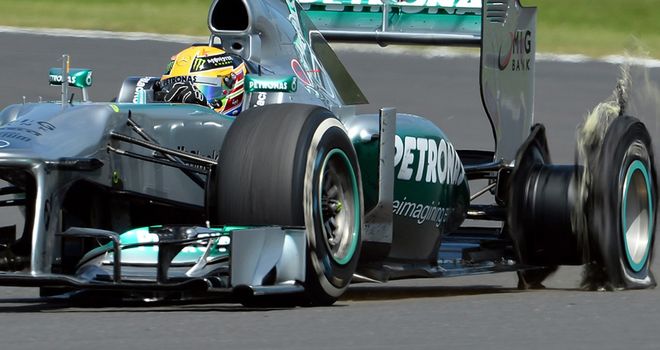 Sunday's German GP was marred by a series of tyre failures
Formula 1 Betting

Formula 1 Betting

Bet with Sky Bet
Pirelli are expected to announce later today that they will revert to tyres built around Kevlar belts for this week's Germany GP following the uproar generated by the spate of tyre failures at Silverstone.
Following Monday night's announcement that race drivers will be allowed to test the Pirelli tyres at the upcoming Young Driver Test, fresh reports claim 'Pirelli will almost certainly use its Kevlar-belt tyres in Germany this weekend' as they bid to ward off the threat of a driver boycott.
'It is understood the Italian manufacturer will issue a statement today, with a switch from steel to Kevlar belts - which it intended to make in Canada last month before the change was blocked by a handful of teams - coming into effect immediately,' reports The Daily Telegraph.
In the aftermath of Sunday's British GP, both Martin Whitmarsh and Christian Horner, the bosses of McLaren and Red Bull respectively, suggested that Pirelli reintroduce last year's compounds. However, with just one week between races, that option has been deemed unfeasible.
'A return to 2012 tyres, which also featured Kevlar belts, would have been the preferred solution this weekend but there is insufficient time to prepare them given the five-day turnaround from Sunday's race to Friday's first practice session at the Nurburgring. The use of 2012 tyre structures, with 2013 compounds, is likely to come into effect from Hungary at the end of July.'
The newspaper also claims that 'Pirelli has two private tests lined up - one at Paul Ricard next week and the other at Barcelona a fortnight later - at which they will be allowed to use a 2013 car.'