F1 teams have agreed for four in-season tests to take place after grands prix in 2014
Relaxing of regulations to come at expense of young driver test
By James Galloway. Last Updated: 09/06/13 6:18pm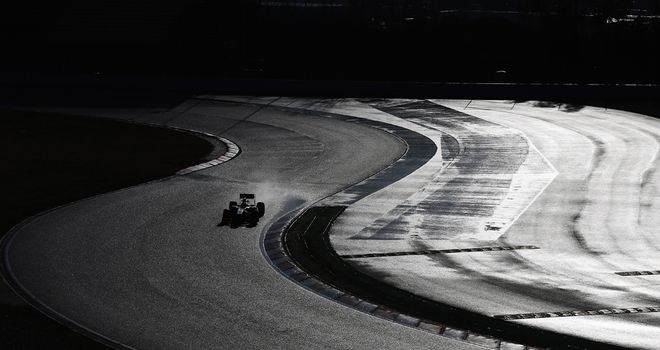 F1 testing: Back on the schedule from 2014 during the season
Formula 1 Betting

Formula 1 Betting

Bet with Sky Bet
Formula 1 is set to relax its in-season testing restrictions for 2014 after the teams agreed to stage sessions after four grands prix next season.
With a number of teams - most vocally Ferrari - having pushed for a return to some form of in-season testing, particularly in light of the major overhaul of the engine regulations in 2014, it has emerged on race day at the Canadian GP that the majority of outfits had now agreed a plan for limited in-season testing to return next season.
The plan, pending approval from the FIA's World Motor Sport Council, is for four two-day sessions to be held in the weeks after four as yet unnamed grands prix, with the increased running, and therefore costs, to come at the expense of the other type of 'test' days currently allowed under the regulations - including the annual young driver event.
"I think they are seeing it as cost saving as they are cutting down on a lot of filming days, straight line tests and the young driver test - which sounds a bit ominous, but hopefully the young drivers can now join the main test because they are just after a grand prix and quite often the race drivers don't want to do that," Sky Sports F1 Martin Brundle explained.
Aside from a single test held at Mugello last year, in-season has been banned for cost reasons since 2009 but teams have been keen to complete more running outside of grands prix next year in order to fine tune their all-new turbo engines.
Brundle can see the logic behind the move, but fears that ultimately it may play further into the leading teams' hands.
"It makes sense I think given the 2014 engine," he added.
"My concern is that if they start testing like that, the well-funded, well-resourced teams will just keep moving forward through the season, whereas at the moment you can get some nice surprises like Maldonado winning for Williams last year."
The news comes on the same weekend that it emerged that F1 looks set for a record 21-race season in 2014 along with an earlier start to the pre-season testing programme, with the first European test to be held several weeks earlier, in January rather than February, ahead of at least one test in the Middle East.
The proposed scheduled changes, which all still have to be ratified by the WMSC, look set to create both a longer season than ever and the shortest winter break in recent memory.
The timing of agreement on testing is also somewhat ironic given the recent weeks have been dominated by Mercedes completing an allegedly illegal three-day test after the Spanish GP, which has put the Brackley team up before the FIA's International Tribunal.