Pirelli say they will not be able to alter the compounds to reduce the number of stops
New rear belt design for Canada practice final change afoot
By William Esler. Last Updated: 05/06/13 5:29pm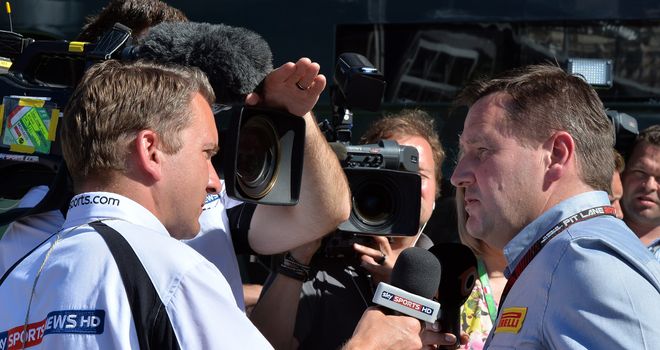 Paul Hembery: Says Pirelli would ideally like to introduce a revised harder tyre
Formula 1 Betting

Formula 1 Betting

Bet with Sky Bet
Paul Hembery has conceded that Pirelli will now not be able to make any changes to the 2013 tyres directly aimed at reducing the number of pitstops during races.
Following a public backlash after most cars stopped four times at the Spanish GP in May, the Italian manufacturer said they would make changes to their compounds in a bid to both address the delamination issues seen so far this season and cut down on the number of pitstops per race.
However, while Pirelli can make unilateral changes to address safety concerns, any tweaks for purely performance reasons require the unanimous agreement of all 11 teams, something unlikely to occur given each outfit would be worried a competitor could gain an advantage.
So while tweaks to their existing rear tyres, to first be tried in Friday practice only in Canada, are being introduced, Pirelli chief Hembery has admitted that the second part of their original post-Barcelona aims now won't be realised.
"Ideally we'd like to change the harder compound to give us more guarantees of being under three stops," said Hembery.
"But you have to understand that sort of change needs the agreement of all 11 teams. It's not something we can do in isolation, and there are reasons for that. Teams have taken different design approaches, so some feel they don't wish to be penalised by an in-season change that may alter their performance levels.
"We also get the other comment that drivers can't push, and there are limiting factors. At the end of the day you can only use what you have, not what you don't have.
"Someone once said to me a driver on today's tyres is a bit like asking Usain Bolt to run the 100 metres in high-heeled shoes. In reality, if everybody has to wear the same high-heeled shoes then the competition changes and you use what you have available, not what you don't have available.
"So every team has the same opportunity, and in the end the best car and driver will win the championship."
In a bid to prevent a repeat of the spectacular delaminations witnessed this season, Pirelli are giving teams two sets of prototype medium tyres with the revised rear construction to test during practice in Canada with a view to introducing them into the full race weekend at Silverstone.
"We have seen a small number of tyres this year with the tread that has come away," the Pirelli Motorsport Director added.
F1 on Sky Sports in 2013
Sky Sports F1 is the only place to watch every grand prix live in 2013.
Our dedicated F1 channel will broadcast every race, qualifying and practice session live, along with highlights shows, analysis and even more coverage via the Red Button.
Find out more at sky.com
"We've used 12,000, 12,500 tyres this year, and we've seen 14 where we've had images of the tyre getting a cut which goes through to the belt and it creates overheating. You then see the dramatic delamination, which visually is not very good, even though the tyre does remain inflated, which is positive.
"But it's an issue that for the general interest of the sport we know we needed to change. So we've been working on our inner-drum testing and creating that type of defect by basically putting cuts in tyres.
"That enabled us to come up with a solution which in reality is very close to what we have been using in the past. In a sense the belt pack is the 2011-2012 one used by all teams up until last year. We're confident it provides a solution to delamination."
Hembery added the new tyre construction was one used by Mercedes during their contentious test in Barcelona last month, but that they had not run with a bona-fide 2013 compound.
"We just wanted to perform a check on a race circuit we knew to make sure there were no balance issues," he said.
"Even that tyre had a different compound to what we are going to be using this year. On Friday it will be the first time, in the full specification, any team has tested them."