Bernie Ecclestone backs BMW to return to F1 in the wake of Honda's comeback
Change in regulations could make F1 a more attractive proposition
By Pete Gill
Last Updated: 21/05/13 8:44am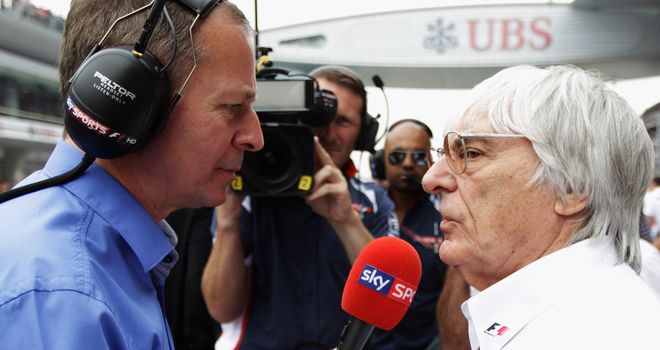 In announcing their intention to join forces with McLaren for the 2015 season last week, Honda explicitly cited the new, greener regulations which are due to come into force next year as being "central" to their decision to make a comeback.
"Honda has a long history of advancing our technologies and nurturing our people by participating in the world's most prestigious automobile racing series. The new F1 regulations with their significant environmental focus will inspire even greater development of our own advanced technologies and this is central to our participation in F1," the Japanese company declared.
That revelation prompted Bernie Ecclestone to suggest that BMW - who, like Honda and Toyota, left F1 when the worldwide recession began to bite and the sport was no longer considered economically viable - could now be preparing to follow suit and re-enter F1.
"I would be surprised if we don't see BMW again," Ecclestone told City A.M. "I think they could come in. The amount of money they spent was not significant in the grand scheme of things. It makes sense for them to return."
However, a spokesman for BMW has denied that the company are preparing to make their own F1 comeback.
Honda's return has already been cited as the best news F1 has received in the last five years, and it remains to be seen whether other leading motorsport manufacturers will be sufficiently attracted by the change in regulations - featuring the introduction of 1.6-litre turbo-charged V6 'power units' to replace the existing 2.4-litre V8s - to commit millions of pounds of investment.
Porsche, for one, have already made clear that they still do not regard F1 as adequately 'road relevant' to make the switch.
"We are a sportscar company," Wolfgang Hatz, Porsche's head of R&D, told Autocar in March. "Porsche has always lived for the transfer of racing to production cars. For that reason it was clear two or three years ago we had to be back in high-level motorsport, and it was a choice between top-flight sportscars or Formula One.
"The final decision was the only logical one. F1 was an alternative, but the road relevance is not there."
Only time will tell if that ceases to be the case in 2014.