Eric Boullier admits Pirelli's tyre changes from Canadian GP 'frustrating' for Lotus
Frenchman had been against any major tyre revisions
Last Updated: 17/05/13 11:46am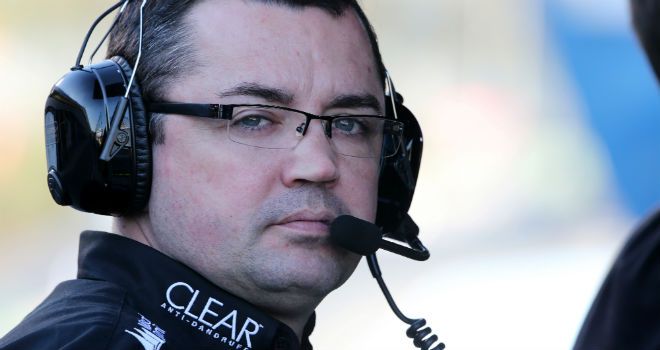 Eric Boullier: Unimpressed with Pirelli's impending tyre changes
Formula 1 Betting

Formula 1 Betting

Bet with Sky Bet
Lotus boss Eric Boullier has compared Pirelli's decision to revise their tyres mid-season to 'changing the dimensions of a football pitch at half-time' - but has nonetheless expressed optimism that his team will be able to adapt to the alterations.
The Frenchman had been outspoken against the prospect of any move by Pirelli to improve the durability of their 2013 compounds when speaking to the media in wake of Sunday's heavily-criticised Spanish GP.
The Team Principal intimated that as Lotus had designed their 2013 car to cope with the demands of the fast-degrading rubber rivals teams also had equal chance to do the same.
However, following a public outcry over the confusing nature of the Barcelona race, Pirelli responded to the backlash by announcing that "in the interests of the sport" they would beef up the durability of their compounds from next month's Canadian GP in an attempt to bring races back into line with their two or three-pitstop target.
Lotus team leader Kimi Raikkonen's impressive podium-finishing results this season have largely been built on the Enstone outfit's ability to make one less pitstop than their rivals and Boullier admitted the change from Montreal was duly frustrating.
"There aren't many sports where there are such fundamental changes to an essential ingredient part-way through a season," he said in an interview with Lotus's website.
"Just imagine for a moment that, because a football team can't run as fast as its opponent, the dimensions of the pitch are changed at half time! That there are changes to come can be seen as somewhat frustrating, and I hope they are not too extreme.
"It's clear that Pirelli have found themselves in a difficult situation and under pressure from different quarters. Last year, when we were designing our 2013 car, each team received information from Pirelli and everyone did the best job they could to develop a chassis which would make best use of the tyre characteristics. We even ran with some experimental 2013 tyres at the end of last season, to assist us in confirming our development paths.
"As with every season, some teams do a better job than others with their designs, and some drivers are more adaptable than others to the changes of both car and tyre. It is frustrating when you've developed a car from a set of tyre specifications which are available to everyone - for tyres that are the same for everyone - to then be told that they are being changed mid-season.
"That said, we have a team of talented designers and engineers who will be working twice as hard to ensure we adapt to these changes in the most competitive manner."
F1 on Sky Sports in 2013
Sky Sports F1 is the only place to watch the 2013 Monaco Grand Prix live.
Coverage starts with opening practice on Thursday 23 May and we have 90 minutes of build-up, starting at 11:30am, prior to Sunday's race plus analysis and extras via the Red Button.
Find out more at sky.com
Lotus will have to respond to the impending tyre construction changes without their highly-regarded former Technical Director James Allison, who left the team prior to the Barcelona weekend.
Boullier, however, reiterated his faith in the promoted Nick Chester and the remaining wider technical team at Enstone to keep pushing on strongly with the E21.
"We have a very strong technical department made of many people. It's an illustration of the strength of talent at Enstone that we were able to promote from within, and Nick Chester has been working on adopting his new role for some time now.
"We have plenty of upgrades to come for the E21, as well as the additional challenge of reacting to the forthcoming tyre changes. We're confident we can maintain performance and development with this year's car whilst at the same time developing an exciting car for 2014 and the new regulations."
The Frenchman also revealed that team had taken steps to ensure that the suspension failure that curtailed Romain Grosjean's Spanish GP wouldn't reoccur.
"Our technical team has taken immediate action, identified where the problem was and redesigned a new part for Monaco onwards," Boullier added.