Pirelli bring forward changes to heavily-criticised 2013 tyres for the Canadian GP
Revised slick rubber to feature structural changes
By James Galloway @SkyGalloway. Last Updated: 15/05/13 12:25am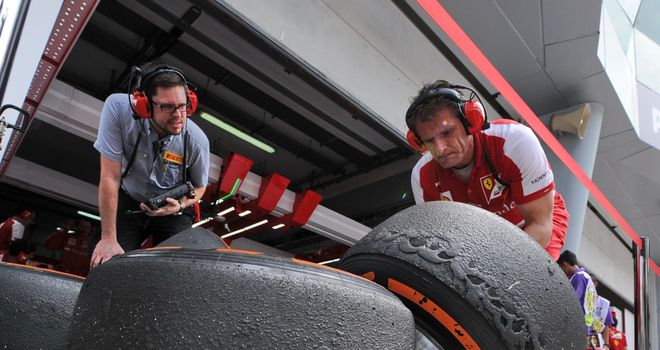 Pirelli: To make changes from Canada
Formula 1 Betting

Formula 1 Betting

Bet with Sky Bet
Pirelli have accelerated plans to introduce changes to their controversial 2013 tyres, with the revisions to now be rolled out in time for the Canadian GP in two races' time.
Under fire from both fans and drivers alike, Pirelli announced almost immediately after Sunday's heavily-criticised Spanish GP that they would make changes to their range of compounds for the British GP at the end of June.
However, those changes to their slick tyres will now be introduced one race earlier - in Montreal - with Hembery revealing the amended rubber will feature structural changes which combine elements from both last year and this year's products in a bid to beef up their durability.
"The sooner we could do it the better," Hembery said of the decision bring forward the introduction of new tyres.
"Four stops was not what we wanted, and to make a change we needed to do it as soon as possible so teams have time to react for the rest of the season.
"The tyre from Canada onwards will combine elements of the structure from last year, with some elements of this year's tyre.
"The fine details are being sorted and will be finalised in the next couple of days.
"But we wanted to make sure people understood we had noted their comments, so we've reacted and we'll make sure we get back to where we were last season, which is two to three stops per race."
Hembery had admitted himself on Monday that "if we make a change it will be seen that we're making tyres for Red Bull in particular" given the World Champions have been the most outspoken against the tyres, with even their billionaire owner Dietrich Mateschitz joining the debate over the past 24 hours.
However, such has been the barrage of criticism launched at Pirelli from fans, media and pundits over the past 48 hours that making a step back in their deliberately aggressive approach had become unavoidable.
The decision to bring forward the changes by one race to Canada means the 2013 slick tyres in their current form will only be in use for one further grand prix, Monaco.
Pirelli have already selected the supersoft and soft tyres for the unique challenges of the Principality's streets - a circuit that is generally quite easy on tyres and normally sees each car make two pit stops.