Ferrari's Stefano Domenicali reckons the next couple of months will be 'crucial'
But Scuderia boss doesn't see any big change in competitive order
By Mike Wise and James Galloway. Last Updated: 14/05/13 10:56am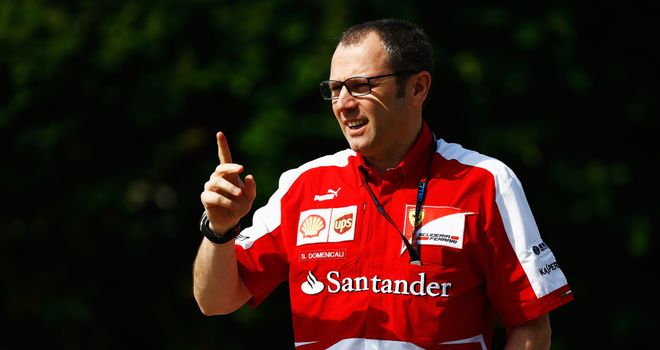 Stefano Domenicali: Not sure whether the development wind is still blowing
Formula 1 Betting

Formula 1 Betting

Bet with Sky Bet
Stefano Domenicali reckons the next couple of months will be "crucial" in shaping the title battle as teams start to divert their attentions towards next season.
Speaking in the wake of Fernando Alonso's victory in the Spanish Grand Prix, the Ferrari Team Principal said the usual marker the race throws down in terms of upgrades and their effect might not be surpassed to any great extent.
Teams are having to give more thought than usual to the 2014 season as it brings a whole raft of rules changes aimed at boosting efficiency. They centre on new V6 turbocharged engines with enhanced energy recovery systems, and there will also be a limit on fuel flow.
"For me, this weekend was important just to understand the jump in terms of performance that we'd expect of other teams. Because from now up until the end of July, then it's possible you might see one or two big steps in development but no more," Domenicali said.
F1 on Sky Sports in 2013
Sky Sports F1 is the only place to watch the 2013 Monaco Grand Prix live.
Coverage starts with opening practice on Thursday 23 May and we have 90 minutes of build-up, starting at 11:30am, prior to Sunday's race plus analysis and extras via the Red Button.
Find out more at sky.com
"Then some teams will be forced to try and start and work on their new cars because otherwise next year, with the big challenge of that new project, instead of being behind two or three tenths, they could be behind two or three seconds.
"I think that this is really a crucial part of the season."
Domenicali reckoned the stability of the current rulebook might preclude a further shake-up of the competitive order.
Reflecting upon the upgrade packages introduced in Spain, he said: "It seems that everyone has moved with more or less the same kind of improvement; I don't see a big change.
"In the next two or three months, we'll see where were going to be. Because after so many years of stable regulations, the fact you're able to have much more performance is getting more and more difficult.
"I don't say that it's impossible but it'll be a challenge for everyone."