Pirelli give teams set of prototype tyres to increase track time in Friday Practice
Development rubber designed with durability in mind
By James Galloway. Last Updated: 07/05/13 10:08am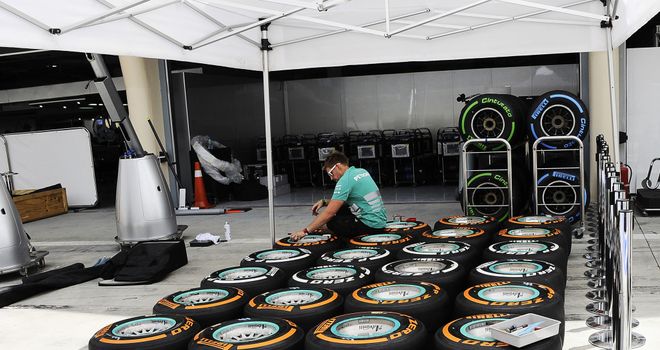 Non-marked prototype tyres to be added to Pirelli's Barcelona allocation
Formula 1 Betting

Formula 1 Betting

Bet with Sky Bet
Pirelli have confirmed teams will have access to an extra set of tyres for Friday's practice sessions in Barcelona in a bid to increase the amount of time cars spend on the circuit.
Having previously announced that the first European GP of the season would witness the introduction of more durable hard tyres, Pirelli had also been expected to make available an extra set of even more durable tyres for Fridays only following renewed concerns over the opening four rounds that cars weren't spending long enough on track during the two 90-minute practice sessions.
Those complaints have now been addressed for Barcelona with a specially-created 'protoype' hard compound to be made available which Pirelli say have been designed with an emphasis on durability so that drivers can run as long as possible. In contrast to the Italian firm's standard tyre range, the new Friday tyre will carry no colour markings.
"As permitted by the current regulations, we'll be supplying an extra set of prototype hard compound tyres for free practice, which will hopefully ensure that all the cars run throughout these sessions," said Pirelli's motorsport boss Paul Hembery.
"It's something we wanted to do to encourage all the teams to run as much as possible right from the start, especially with the rookie drivers, to give fans the spectacle they deserve to see."
Bernie Ecclestone revealed to Sky Sports F1's Martin Brundle in China that plans were afoot to increase the tyre allocations for Fridays in order to improve the practice 'show', which often sees quiet starts to the sessions as teams wait for the 'green' circuit conditions to improve.
The first proposal had been that an extra set of tyres would be made available to teams running rookie drivers in Practice One only, but leading team principals strongly hinted they were unlikely to take up such an offer at the expense of their usual race drivers.