Sam Michael says McLaren are committed to improving their troublesome new car
"We're working on all fronts at the moment," Sporting Director admits
By Mike Wise at Sepang. Last Updated: 23/03/13 7:02am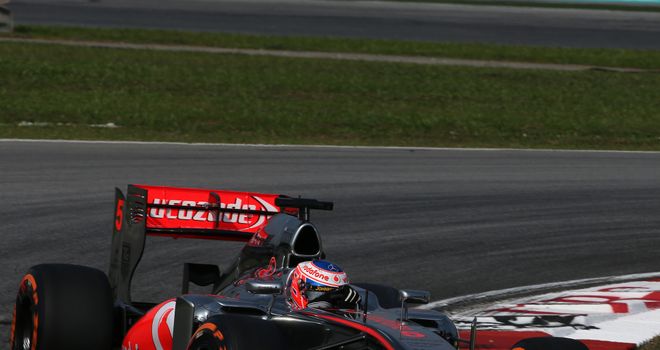 Learning: Jenson Button behind the wheel in Malaysia
Sam Michael reckons McLaren's understanding of their troublesome new car is growing on a daily basis but he cannot say when they might get to the bottom of their problems.
Michael was speaking at the Malaysian Grand Prix on Friday, when Sergio Perez and Jenson Button ended opening practice 11th and 12th fastest respectively. Button even went fastest when a rain shower forced cars on to intermediate tyres in P2 but practice times mean little to McLaren right now.
F1 on Sky Sports in 2013
Sky Sports F1 is the only place to watch every grand prix live in 2013.
Our dedicated F1 channel will broadcast every race, qualifying and practice session live, along with highlights shows, analysis and even more coverage via the Red Button.
Find out more at sky.com
What matters far more is getting to grips with the vagaries of the MP4-28. Michael could not pinpoint the car's specific problems but said redesign work was ongoing. He also referred to the car as '28A', yet stopped short of saying that a 'B' specification was needed and again ruled out the possibility of reverting to last year's chassis.
"We're working on all fronts at the moment. We have a pretty good understanding of where the issues are. Most of those things we have to solve in design back at MTC [McLaren Technology Centre]," Michael said. "However, we gain more confidence in knowing what to concentrate on during these track tests. You can set up tests to give you more information about how sensitive a particular area of the car is. That's what we're in the middle of."
Asked about the car's problems, Michael said: "At this point it's too early to say 'That's what it is' even though we're reasonably confident of what to work on."
He explained that their efforts are being hampered by the extent of the revamp. The MP4-28 is a departure from its predecessor in that it features a completely new front and rear suspension as well as a raised chassis at the front.
"We changed a lot of things over the winter on the design of the car. Through making those changes we've had to reset a lot of our understanding of how the car works. Our reasons for doing that are the same - we thought it would open up new avenues - but when you do that, you lose some of your traditional understanding in the hope you're going to gain more," Michael said.
"I just think we're at the early stages of that understanding," added the team's Sporting Director, who said that McLaren are learning on a daily basis.
"We have a good idea of where to work but it's not right for us to go into detail on that because our understanding is changing very quickly...our understanding from last night to post-P1 changes a lot because we're doing more testing."
Button has already said he doesn't expect McLaren to fight at the front this weekend but did at least say after P2 that they "had a good day in terms of learning".
The 2009 World Champion also said the ride problems they experienced in Melbourne, where the car was bottoming out, have improved.
Michael refused to speculate as to when the MP4-28 might be transformed into a race winner - "It's difficult to set timeframes" - but did say that McLaren will keep working on it rather than change tack.
"Our total focus is on 28A, working on that and getting it sorted," he added.
"It'll be a development of this car, a development of the 28. It depends what you mean by a 'B' spec; in the old days, it used to mean a new gearbox or something like that. At this point, there's no plan for anything like that.
"The potential in this car is, we believe, still greater than the 27."
Speaking in the later team technical bosses' press conference at Sepang, Michael also expressed confidence that McLaren's past history of recovering strongly from poor starts to the season would be repeated on this occasion as well.
"What I will say is the past history of McLaren as a group to recover from situations like this is extremely strong and consistent," he said.
"They've done it before and I don't see any reason why the engineers won't do it again this time, especially based on the activity that I've seen and we've all been involved in over the last couple of weeks.
"I think it won't take long for us to be back up there - that's the target."