Susie Wolff to stay at Williams and given expanded development driver role for 2013
Wife of Mercs-bound Toto first behind the wheel of FW35
Last Updated: 29/01/13 8:32am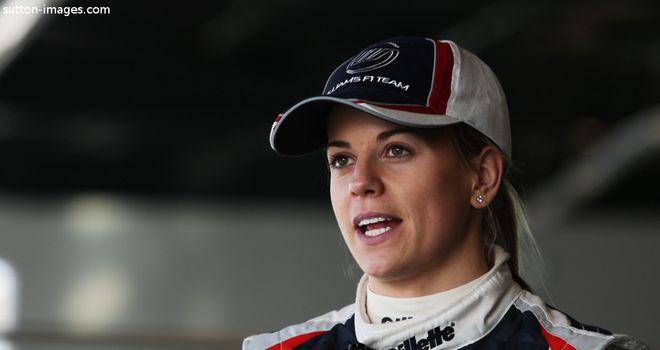 The female racing driver, wife of Williams' former executive director Toto, will stay on as the outfit's development driver for the new season despite her husband's sudden defection to Mercedes and get more time behind the wheel of the team's car.
In addition to an increased programme in Williams' simulator, Wolff will conduct the "majority" of their permitted straightline aerodynamic testing during the course of 2013 - including what they have confirmed will be the new FW35's maiden track bow at the Idiada test venue in Spain next month.
"I really enjoy my time working with Williams and feel very much at home here," she said.
"Last year was a valuable experience and I certainly feel that I've developed a lot as a driver. Increasing my role this year will further this progression and I can't wait to get behind the wheel of the FW35 for the first time next month.
"I'm showing that women can play a role at the top level of motorsport and would like to thank Sir Frank Williams and the whole of the technical team for the trust they continue to show in me.''
Williams' Technical Director Mike Coughlan said Wolff had impressed in her first season at Grove.
"Susie has proved herself to be a valuable addition to our driver roster and her feedback during simulator sessions is second to none," he declared.
"As a result we will be stepping up her role this year and I'm looking forward to the progress we can make with Susie's input in conjunction with that of Pastor and Valtteri.''
Williams have delayed the introduction of their FW35 to the second test of pre-season at Barcelona, with a development version of last year's challenger - albeit in 2013 livery - to run next week at Jerez.