Toto Wolff leaves Williams for executive role at Mercedes alongside Lauda and Brawn
Mercedes also announce that Niki Lauda has become a shareholder
By Pete Gill. Last Updated: 22/01/13 2:59pm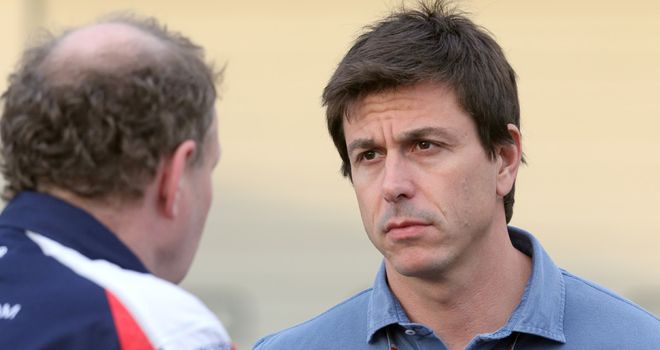 Toto Wolff: Leaving Williams for Mercedes
Formula 1 Betting

Formula 1 Betting

Bet with Sky Bet
Toto Wolff has left Williams with immediate effect to join Mercedes as their Executive Director in a role which will see him take charge of the "complete coordination of all Mercedes-Benz motorsport activities".
Wolff will, in effect, replace Norbert Haug following the veteran's retirement at the end of 2012, with Mercedes announcing that a triumvirate of "Ross Brawn, Niki Lauda and Wolff will complete the management of the Mercedes-Benz Formula 1 racing team".
The Mercedes announcement made no mention of Nick Fry, who has held the role of CEO at the team and was Team Principal when it was known as BAR and then Honda.
"Mercedes is one of the most important participants in motorsport worldwide. I am not only a big fan, but also a longstanding friend and enthusiast of the brand," commented Wolff who, along with Lauda, has also acquired a shareholding in the Mercedes team. "I am looking forward to the challenge and, along with preparing for a successful racing season, also want to focus on the targeted promotion of new talent."
F1 on Sky Sports in 2013
Sky Sports F1 is the only place to watch every grand prix live in 2013.
Our dedicated F1 channel will broadcast every race, qualifying and practice session live, along with highlights shows, analysis and even more coverage via the Red Button.
Find out more at Sky.com
Conversely, Wolff's departure from Williams represents another hefty blow to a team which only returned to winning ways last year at the Spanish GP after nearly a decade in the doldrums.
"Toto will be relinquishing his seat on the Company's Board of Directors but will retain his shareholding," announced the team in a press release. "Frank Williams continues to oversee the running of the Company with Toto's responsibilities shared between the Board's Executive Committee.'
In typical style, Williams himself has bid Wolff farewell with an effusive blessing, but the Austrian's exit signals another significant and sudden management shake-up at Grove ten months after the unexpected resignation of chairman Adam Parr saw Wolff assume day-to-day management of the team.
Previously regarded as a potential successor to Sir Frank, the 41-year-old will remain a shareholder in Williams, having first bought into the team in 2009. Yet he has long held links with Mercedes-Benz, thanks to a share in the company that runs its DTM programme.
Wolff's wife Susie holds a development driver role at Williams yet she was quick to pledge her allegiance to Grove on Monday. Speaking on Twitter, she said: "Just to clarify, I am a proud member of the Williams F1 Team & there was never any question of me leaving."
Her husband is also involved in the management of Valtteri Bottas, who makes his race debut for the team this coming season.
The Williams press release in full
'Williams Grand Prix Holdings PLC today announced that Toto Wolff, one of its Executive Directors, will be leaving the Company with immediate effect to take up a new role with Mercedes-Benz Grand Prix Ltd.
Toto Wolff factbox
Age: 41.
Nationality: Austrian.
1992: Started racing in junior formulae.
1998: Founded the first of several venture capital companies.
2009: Acquired shareholding in Williams.
2012: Appointed Williams Executive Director.
2013: Appointed Mercedes Executive Director.
'Toto will be relinquishing his seat on the Company's Board of Directors but will retain his shareholding. Team Principal and majority shareholder Sir Frank Williams will continue to oversee the running of the Company with Toto's responsibilities being shared between members of the Board's Executive Committee.
'Speaking about Toto Wolff's departure Sir Frank Williams commented; ''I would like to thank Toto for his hard work, dedication and commitment to the team during his time as a Director of the Company. He was a key support to me as Executive Director last season, deputising at a number of races when I was unable to attend. However, positions such as the one offered to him by Mercedes do not come around often. Toto has a long history with them and I certainly was not going to stand in the way of him accepting this once in a lifetime opportunity.
"Toto will retain his shareholding in Williams and will always have a place at Grove but make no mistake; we will fight him hard on the racetrack! I am sure he will be a strong asset for Mercedes and on behalf of the whole team I would like to wish him the best of luck in his new role. I'm lucky to have a very professional group of people around me and the Company's Executive Committee will continue the work they have been doing to ensure a successful future for the business."'