FIA confirms that, as of next season, use of DRS will be limited to official zones in practice and qualifying
Measure to be introduced on safety grounds
By Mike Wise in Austin. Last Updated: 16/11/12 10:55am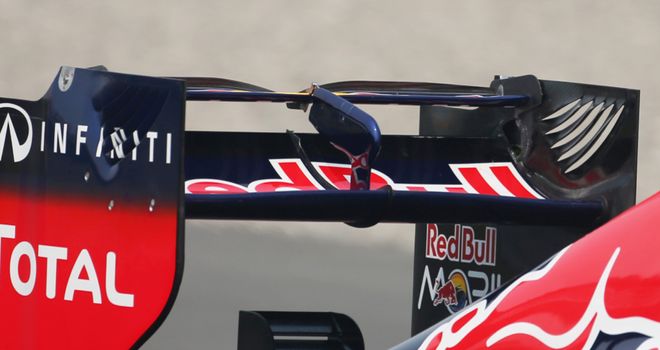 More limited use: DRS system
Formula 1 Betting

Formula 1 Betting

Bet with Sky Bet
The FIA's Race Director Charlie Whiting has confirmed that, as of next season, the governing body is to limit the use of DRS during practice and qualifying to just the official zones.
Speaking at the Circuit of The Americas on Thursday, Whiting said the measure was being introduced on safety grounds.
"It's something we told the teams about the other day and we're going to do that for safety reasons," he said.
"We believe that there have been a number of incidents - and drivers have told me now - that it's becoming increasingly prevalent."
Whiting explained that teams had initially been allowed unlimited use of DRS on the Friday and Saturday of a race weekend in order to ensure it was as effective as possible.
However almost two seasons after its introduction, teams are using drag reduction more freely than ever for performance gains Whiting described as being "massive" in some cases.
Frontrunners - whose cars are able to generate the most downforce - in particular can deploy DRS to boost qualifying pace. The temptation for drivers is to use the system through corners, even though it suddenly reduces grip.
"One could argue that early deployment of DRS is not much different to early deployment of throttle, for example. But the DRS is a sort of 'On/Off' switch, whereas throttle can be modulated, so it's not quite the same thing," Whiting said.
"We didn't really want to have it used in qualifying and practice before but we were rather worried that we may not have effective DRS systems.
"Now I believe, from all the information we have, we should not see any reduction in the effectiveness, the power, of the DRS.
"Teams will still use it because, even though they're only allowed to use it in perhaps two places on the circuit, I think the benefit will still be there for them."
Drag reduction systems - a driver-operated flap in the car's rear wing that reduces both drag and downforce in order to boost speed - were introduced in 2011 by the FIA as a means to improve overtaking.
"The whole point of the DRS was to ensure that we improve overtaking in the race. That's the sole and stated reason for it," Whiting added.
"No-one really understood how effective it would be. In fact, most of the engineers told us it would be similar in effect to KERS - so two, three, maybe four-tenths per lap.
"That clearly hasn't been the case. You can see now, depending on the circuit, it can be anywhere between one and one-and-a-half seconds benefit in qualifying. So it's massive in some cases."