'Hamilton is taking a big risk'
Lewis Hamilton has taken a huge gamble by swapping Mercedes for McLaren, says Sky Sports F1's David Croft.
Last Updated: 28/09/12 7:37pm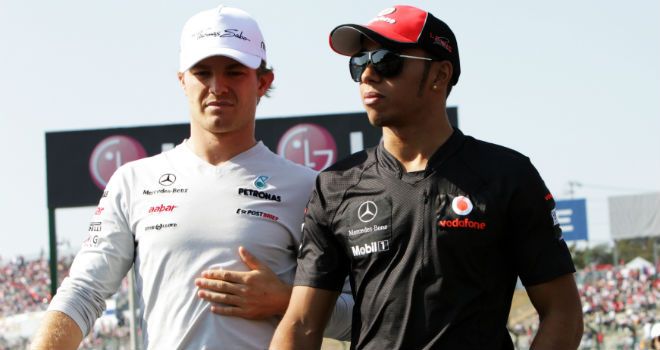 Lewis Hamilton has taken a huge gamble by opting to swap McLaren for Mercedes next season, David Croft has told Sky Sports News.
The future of the 2008 world champion was uncertain for most of this season until it was announced on Thursday the British driver will be joining Mercedes for the 2013 campaign.
Sky Sports F1 commentator Croft believes it is a bold move for Hamilton, who has been with McLaren since the age of 13, but says the fresh start could lead to another world title for the 27-year-old.
"This is a massive gamble taken by Lewis Hamilton," he told Sky Sports.
"You could argue Mercedes - as Brawn in 2009 - have won a title more recently than McLaren, but McLaren have a massive history in F1, they've won 181 races in the sport.
"This is a massive risk to gamble on whether Mercedes can win you races and win you world championships. History and logic would dictate Hamilton's got a better chance of winning another world championship by staying at McLaren.
"However, Mercedes have prioritised 2013; they've devoted wind tunnel time to 2013 in the hope they'll have a head start next year. They've also got title winning expertise in the background, including Ross Brawn who, with Michael Schumacher, dominated the sport for so many years in the early part of the century.
"Lewis has been exceptional at McLaren but you could argue he's not won as many world championships as he should have done.
"As well as the financial grounds there are also sporting grounds for this move - he is aligning himself with an engine manufacturer ahead of the drastic engine regulation changes in 2014 - and there are grounds for this move in terms of his own happiness, too."
Surprise
Croft said he expects McLaren to be surprised by Hamilton's decision but pointed out things haven't gone smoothly for the British driver this year. Hamilton has failed to finish three of the last five Grand Prix races and those retirements have left him 52 points behind Ferrari's Fernando Alonso in the World Championship.
"I think McLaren will feel surprised that this has come to fruition," said Crofty. "We got the vibe from inside McLaren last week at Singapore that they were expecting Hamilton to stay with them.
"Certainly in the earlier part of the season he was driving well but things were going against him with things such as pit stops, and he's had car unreliability recently as well.
"I think he's after a new challenge at this time of his life, and also securing a financial deal that is acceptable to him when he's at the peak of his powers. He's a man who would be first on any team principal's list of drivers they'd want driving for them.
"I think when negotiations first started and Ron Dennis made it clear Lewis was an employee and McLaren had the upper hand when it came to how much money they paid him, that wasn't the sort of thing he wanted to hear, considering his stature.
"When I spoke to Lewis Hamilton in the press conference in Italy and asked whether, when he was looking at his future, it was all about the money, he replied 'no, it's all about winning'. So I don't think it's about money, but it's a massive gamble."
Tantalising prospect
However, Crofty expects McLaren to continue to work hard for Hamilton during the remainder of the 2012 season, with the prestigious Constructers' Championship still up for grabs - but he's also looking forward to a mouth-watering prospect for next season.
"We've got the tantalising prospect of seeing Fernando Alonso at Ferrari, Sebastian Vettel at Red Bull, Lewis Hamilton at Mercedes and Jenson Button driving for McLaren live on Sky Sports F1 HD next season," he said.
"Let the games commence on that one - I can't wait to see it!"